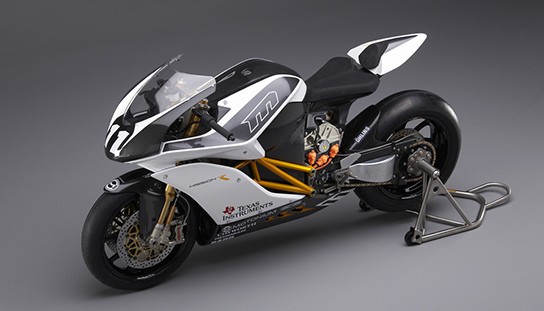 a superbike is not uncommon but an electric superbike is something don't see very often, not to mention one that's built to race. with the electric cars becoming a reality for mass production, there's no reason the same can't be done for bikes, and in this instant, a superbike. Mission Motors's Mission R is an all new electric superbike that is built to race with a purpose-built frame.
[ad#Google Adsense-text-468×60]
powered by a 141 horsepower liquid-cooled 3-phase AC inductions, the Mission R has a peak torque of 156 Nm. it draws its juice from the 14.4 kW-h MissionEVT battery with integrated battery management system encased in a carbon fiber casing with dielectric liner.
the Mission R is packed with technology advancement worthily of the most advanced electric racing motorcycle which includes the MissionEVT 100 kw controller with integrated vehicle management system, adjustable throttle mapping, regenerative braking and WiFi & 3G connectivity lets rider and pit team keep tabs on the battery power and other bike stats.
topping up the impressive electric components with MotoGP-spec Ohlins suspension set-up, Brembo brakes, and Marchesini forged magnesium 10-spoke wheels, and you have a true built-for-race superbike less the harmful emissions.
more images…