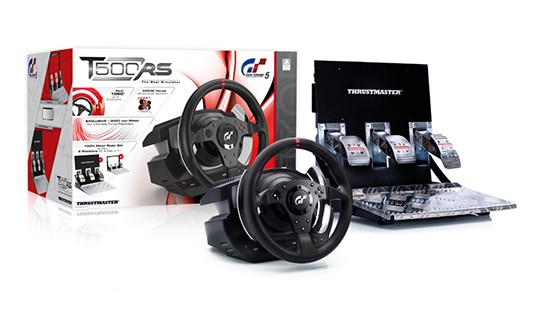 Thrustmaster T500 RS Wheel and Pedal Set | US$599.99 | www.thrustmaster.com
(image credit: Thrustmaster)
seriously, a racing game isn't complete without a good steering wheel/pedal set. though traditional game pad does the job adequately but it just lacks the realism in it. having said that, a steering wheel/pedal set is a must if you want to get the most out of the most advanced racing game, Grand Turismo 5. i am not posting this because just because this product is new in the market but rather, i am in the process of searching for a quality steering wheel for this game (i am a huge fan of GT franchise). i am a few percentage into the game and stopped because the stock dual shock just don't justify the driving experience that i will get from GT5.
[ad#Google Adsense-text-468×60]
there are a couple of Official License wheels for the GT franchise, Logitech being the provider for the past couple of incarnations. a few months ago, Kazunori Yamauchi, CEO of Polypony Digital and Senior Vice President of Sony Computer Entertainment Inc shed some lights on the collaboration with Thrustmaster to develop a brand new steering wheel specifically for GT5. that was a few months ago, last week Thrustmaster unveiled more details on the all new steering and pedal set, dubbed T500 RS wheel and pedal set. the T500 RS will limelight in the upcoming CES Las Vegas 2011.
touted to be completely optimized for GT5, the wheel measuring 30 centimeters in diameter, will offers three full turns of 1080° rotation which is totally customizable by users to suit the racing circuits and the car driven. a 65W industrial motor with dual-belt system provides the Force Feedback effects which reportedly to be 'vigorous, fast-acting and extremely responsive'. a strong FFB is good, but in some instances, too strong FFB tends to hinder the driving experience with users having to 'fight' the steering to keep the car in control. i certainly hope there's provision for adjustment for the rate of force feedback.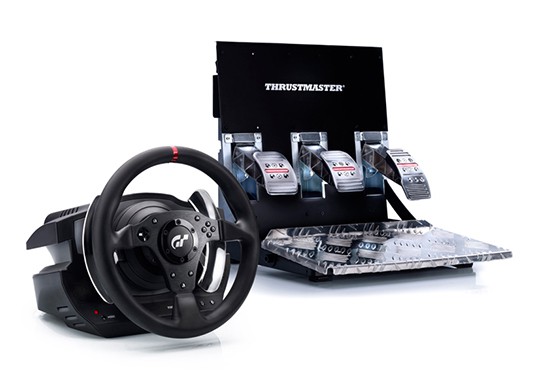 (image credit: Thrustmaster)
nothing less is expected from this top-of-the-range steering wheel and this can be witnessed by Thrustmaster's inclusion of the magnetic sensor-based H.E.A.R.T HallEffect AccuRate Technology in the steering wheel mechanism which provides a precision 16-bit resolution on its steering axis. this technology was previously developed for its bench-mark flight stick, the HOTAS WARTHOG. aside from the now-standard pedal shift, the T500 RS features a 17 centimeters long sequential gear levers mounted on the based, resembling those found on a rally-grade race cars.
on the aesthetic end, metal are used in and around this set, including the gear shift levers and the wheel's central spokes section. on top of that, the T500 RS features a 100% metal pedal set which is fully adjustable, offering users two positions: the "floor-mounted" F1-style, or the "suspended" GT style. it's great to see metal being used for pedals, not just for realism but the weightiness is most welcome, especially when the driving gets rough. flimsy plastic pedals are so yesterday. a checkered metal footrest tops up the realism package.
there are altogether three pedals, namely accelerator, brake and clutch – which hints on an independent gear stick add-on for the T500 RS in near future. seriously, if you are a car nut, chances are, you would appreciate the traditional H-gate gear shift and clutch more than anything else. the prospect of able to execute the heel-toe routine is exhilarating. however, realism doesn't comes cheap. the Thrustmaster T500 RS has a MSRP of $599.99 and set to be available from January 5th, 2011 in North America and Europe, with Japan getting this wonderful wheel from January 25th.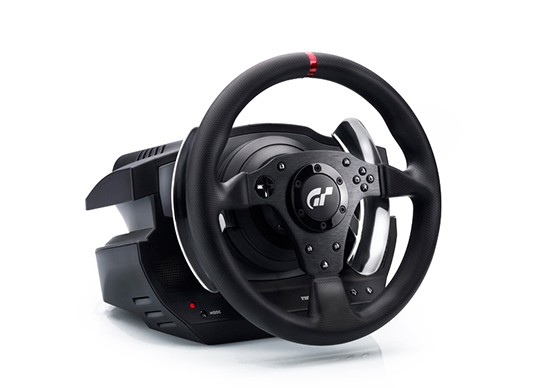 (image credit: Thrustmaster) close-up of the steering wheel component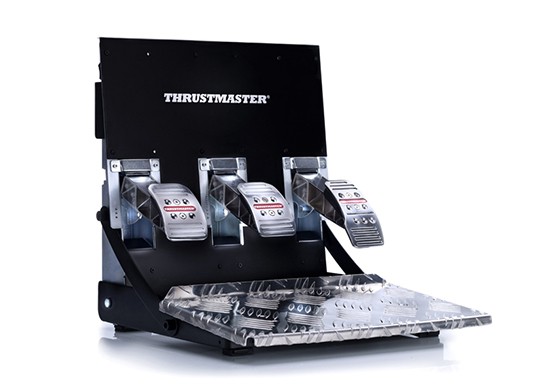 (image credit: Thrustmaster) the pedal in the "GT-style" position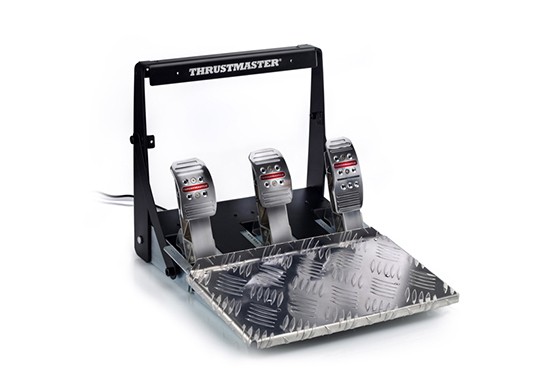 (image credit: Thrustmaster) the pedal in the "F1-style" position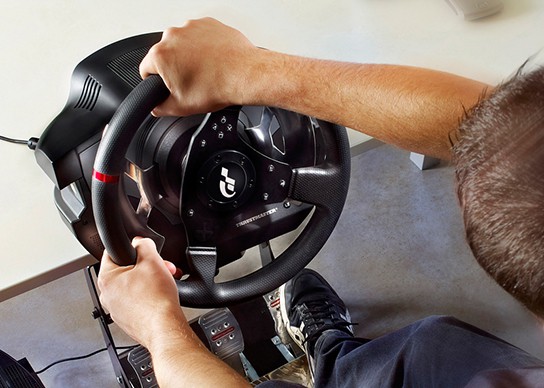 (image credit: Thrustmaster) pretty obvious. i wish i was the person sitting there right now