while we are all excited by the prospect of 3D printing, we can't help but to imagine the amount of plastic waste the world with 3D printing will generate. it is not going to be pretty on the global scale, since virtually anyone can start prototyping without giving a second thought and we probably have to live with this harsh reality, but the EKOCYCLE Cube 3D Printer you see here wants to make that process a little greener by using post-consumer waste such as plastic PET bottles as part of the printing material. well, of course, you can't expect the raw materials to be 100% recycled materials; each EKOCYCLE filament cartridge contains 25 percent of post-consumer recycled materials which equates to about three assorted recycled 20oz. PET plastic bottles.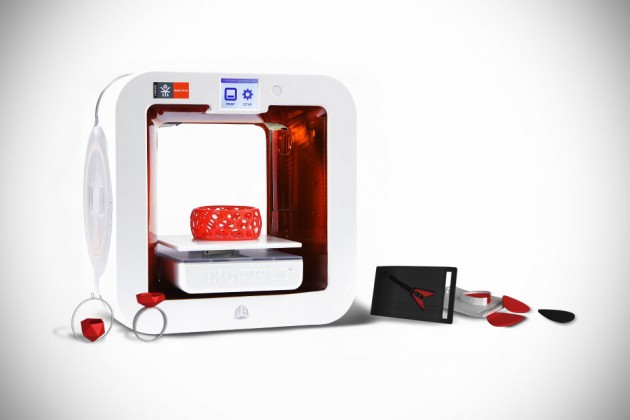 by looking at a single cartridge, it may not seem like a big deal, but in any case, efforts big or small, will contribute to relieving the burgeoning landfills, plus as far as PET plastic recycling is concern, it means providing another 'place to go' for the recycled PET bottles. the solution EKOCYCLE Cube is proposing kind of makes sense; since the world in general needs to 3D print and those hundreds of thousands of PET bottles from huge corporations like Coca Cola seriously needs to be recycled anyhow, so why the hell not filament cartridge based around post-consumer plastic waste? sounds like a win-win situation for both Mother Earth and the creative communities, don't you think? EKOCYCLE Cube 3D Printer alone may not bring about the obvious changes, or relief, but it is a good start and hopefully, it will inspire others to follow suit or set a standard for a greener 3D print, especially when 3D printing is set to become as common as traditional paper prints in near future.
seriously people. we have to do something cos' we have no wish to live in a PET-filled post apocalyptic wasteland. also we need more trees too. at this point, the EKOCYCLE Cube 3D Printer is yet to be available, which means no hints on its availability and pricing. keeping going for a video of will.i.am introducing the EKOCYCLE Cube 3D Printer. will.i.am, btw, happens to be the Chief Creative Officer of 3D Systems (the firm behind EKOCYCLE hardware) and the co-founder of EKOCYCLE of Coca Cola. you have to admit using pop icons to push for a greener world is a smart move. no?
p.s. we are waiting for the day when we can recycle those PET plastic bottles right at our own homes. will that ever happen?
Cubify via Laughing Squid