Designers, especially furniture designers, are an artistic bunch. They have the uncontrollable tendency to describe their works in a very poetic manner, such as this one you see here, the El Purista RA 1:15 Smoker's Armchair. The brainchild behind it, Chilean architect Rodrigo Gonzalez and German lawyer (yup, lawyer) Alexander Sauer, described it as a furniture inspired by "unfolding flower blossom." Clearly, we don't quite see it that way. Don't get us wrong, we think it is a beauty; in fact, we are drooling over it right now and it would be the must-have chair if we were cigar lovers. We see it as a beautiful piece of furniture, thoughtfully designed for cigar-smoking folks and that's that. We need no underlying poetry to tell us it is an awesome piece.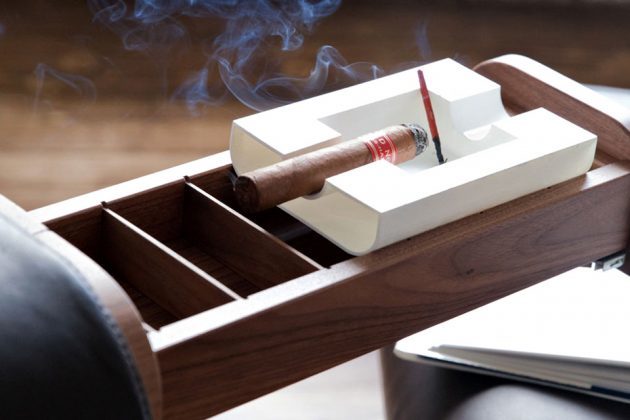 That said, we are into the details than anything else, which includes feature like a soft cushion wrapped in aniline leather, backed by an inner layer of beech wood and topped with a choice of veneers such as walnut, oak, maple and other varieties. Eco-conscious smokers will be glad that those woods are strictly harvested from sustainable German forestry, so you can have a guilt-free pleasure. In addition, the designers promised no artificial pigments are used on the leather that allows the upholstery to age and wear naturally, thereby developing a unique character.
The best part about this armchair is, of course, the slide out Spanish cedar compartments (aka drawers) built into the armrests that offers cavities for your cigar session's essentials like cigar cutter, lighter (or matches, whichever is your poison), extra smokes and even an ashtray and a glass of your favorite fiery, alcoholic beverage. By now, cigar enthusiasts must be wondering how much such cigar-centric opulence may cost. Well, about that, there are no words on the pricing, actually. We are even sure if the duo is ready to cobble up one for you, but as always, there's no harm in touching base with its maker to find out how you can get your butt on one.
Images by El Purista.