Based on the Prancing Horse's first hybrid supercar, the Ferrari FXX K is set to debut next weekend at the Ferrari Finali Mondiali in Abu Dhabi and will subsequently grace the world's tracks starting next year. The K in its moniker refers to the "KERS" or kinetic energy recovery system, a feature that comes standard with this lusty hybrid. Though it looks very much ready to hit the track (and as mentioned, it will), it is never destined for competition, instead it will be available to an exclusive group of client-test drivers in a test program rolling out in coming two years. If the name of the car is any indication, this car is very much an experimental vehicle, or more correctly put, a laboratory-car and though not explicitly said, the knowledge and technology gained will most certainly serves as the basis of development for the Maranello automaker's future rides.
Under the hood sits a 6,262cc V12 unit, which works with the electric motor to unleash an astounding 1,035 screaming horses and over 663.7 lb-ft (900 Nm) of torque. The V12 itself puts out 848 hp, while the electric motor generates 187hp. As you can see from the images, aero is a big part of this hybrid hypercar in an effort to improve track time. The front gets a twin-profile spoiler and a larger splitter that is now 30mm lower, along with vertical fins on either side. Moving towards the rear, you will find side skirts filling the space between the wheels, a dynamic rear wing, vertical fin and an enormous diffuser. According to Ferrari, this setup plus a host of other aerodynamic tweaks and enhancements result in 50 percent improvement in downforce in the low drag configuration and 30 percent improvement in the more aggressive downforce configuration.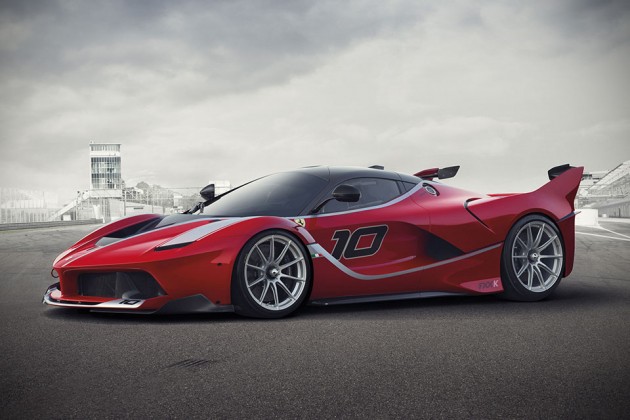 This track-focused hypercar is fitted with slicks complete with sensors that keep tracks of the various parameters to enable the traction control system to perform at its best. Other worthy mentions include carbon-ceramic brake discs, all evolved HY-KERS system with four-mode electric performance (adjustable through a Manettino at the center console), E-Diff electronic differential, F1-Trac traction control, Racing Side Slip Angle Control (SSC) and high-performance ABS, controllable using a five-position Manettino on the steering wheel. Performance is, of course, not known yet but we should be hearing some numbers soon. Like wise, pricing and availability are not disclosed, but those details probably won't be our prerogative.