The Force of Star Wars is one not to belittled. Running up to the release of the Episode 7 next month, Disney has reached out to every corner possible to drum up the excitement. We do not know if Disney has any form influence outside of this planet, but we sure know it has dug into every commercially available platforms to promote Star Wars – just to make sure we are reminded that the year's biggest movie event is upon us. Mobile fridge, commercial airline are just some recent examples, and the latest to join horde of Star Wars marketing fiesta is Fiat USA.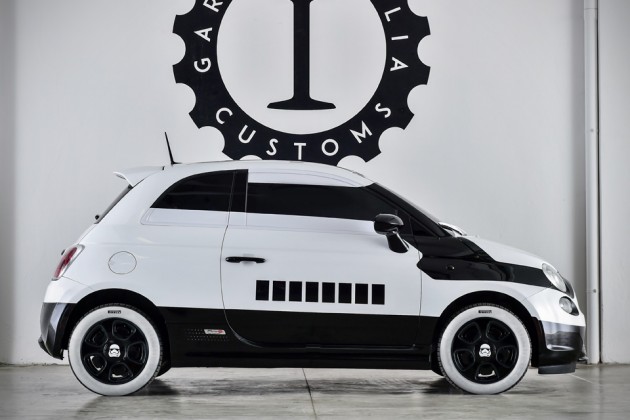 In support of the Star Wars: The Force Awakens opening on December 18, Fiat USA has teamed up with Lucasfilm to create a 500e dressed in Stormtrooper design. Dubbed Fiat "Star Wars: The Force Awakens" Stormtrooper 500e, this particular 500e, which was showcased at the 2015 Los Angeles Auto Show, is draped with an exterior livery featuring a two-tone black and white custom paint job inspired by the armor of the First Order Legion, and the windshield and side windows wrapped to mimic the visor and helmet of the First Order Stormtrooper. A set of glossy black wheels with First Order insignia paired to white wall tires round up the exterior Stormtrooper look.
The interior isn't spare either. It gets the mandatory Stormtrooper colorway, with custom leather and Alcantara seats, white dashboard with Star Wars logo, a two-tone leather-wrapped steering wheel adorned with First Order insignia, plus white and black lacquer detailing thrown in for good measure. The custom job was the handiwork of Italian car customizer, Garage Italia Customs.