Running while listening to your favorite tunes can boost your performance, but not without its danger. Danger like being cut off from the all-important environment noises such as approaching automobile. Damson solves this by introducing bone conduction headphones by introducing sound directly to your skull so your ears can remain open to hear other ambient noises, but Oregon-based Roadnoise has another way: putting speakers on your shoulder, and it is calling it the Roadnoise Vest. Roadnoise Vest is no ordinary running vest.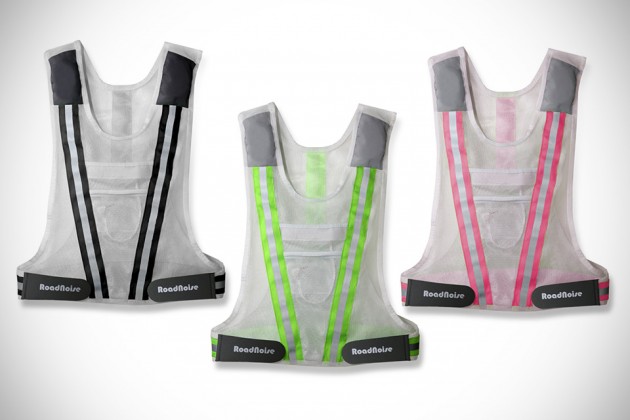 While reflective printing on the front as well as reflective tapes on the front and back of the meshed vest increases your visibility to vehicles when you runs in low light conditions, a pair of integrated speakers on either side of the vest (on your shoulder somewhere behind your ears) provides you the running tunes. This pair of speakers delivers your favorite tunes playback by your mobile device nested in a waterproof but breathable security pocket at the front and within the security pocket is a smaller "amp pocket" where the included remote/amplifier is placed and can be controlled simply by pressing on the front of the vest pocket, indicated by the plus minus signs.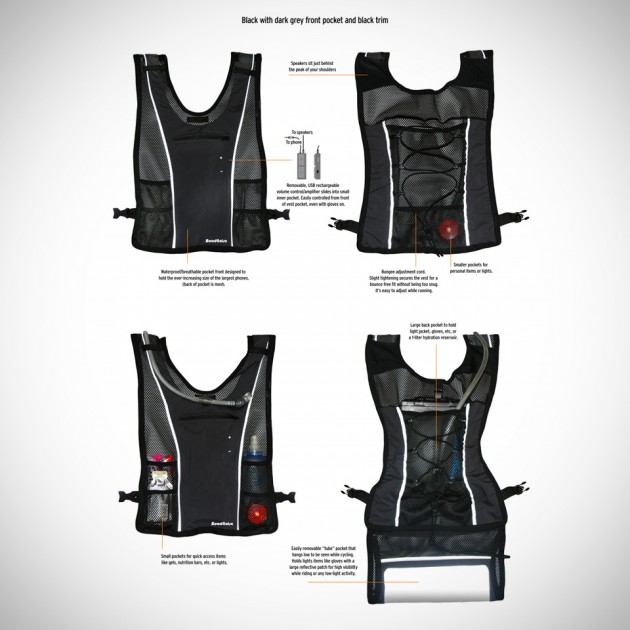 In this way, you can get to enjoy the music as you run without cutting out the surround sounds and still have full control of the music playback volume. But those are not all. This vest is packed also pack with two water bottle pockets, pockets for EDC such as flashing light and gel packs, a large back pocket for water bladder or other large items – held tight and secured by bungee cords, a fully adjustable back for the perfect fit, and has a removable drop-down "tube" pocket with yet another reflective patch at the back for containing items like rain coat or extra shirt.
Apparently, Roadnoise Running Vest has been put through its paces by athletes, and this is supposed to be an improved version which you can acquire by backing its Kickstarter campaign. Prices start at $49 and runs up to $99, depending on when you make the pledge and what extras you opt for.
submitted via TIP US page.