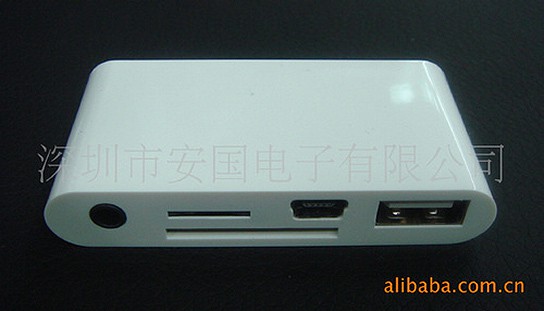 (image credit: Alibaba) 5-in-1 Camera Connection Kit | US$tbc
we just talked about how we would be expected to multi-function a couple of days ago, and thus, we also expects the devices or equipment that we use to do the same. before long, we found the 3-in-1 camera connection kit that allows one gadget to do three things and now, as if three functions wasn't enough, there's the 5-in-1 Camera Connection Kit for iPad.
there are two versions of this 5-in-1 device: one that supports a range of memory cards and the other comes with USB port, SD card slot, micro-SD card slot, AV-out port and a mini-USB port. seriously, the latter one has some redundancy to it. it already has the USB port, why bother with a mini-USB?
needless to say, the 5-in-1 Camera Connection Kit is a product of a Chinese electronics company. no words on the pricing and when this thing will be eventually available to the mass market.
via M.I.C.Gadget