Bluetooth speakers are a dime a dozen and though most of what we have heard have pretty awesome audio quality, they are hardly one would call 'HiFi'. in fact, if we recall correctly, nobody ever associate HiFi quality with wireless portables and this is why Frankenspiel FS-X 100dB HiFi Bluetooth Speaker grabs our attention. it is a sleek, cube form factor speaker that promised to deliver 100dB of sound and does it without distortion even if you crank it up to the max. so how does a tiny speaker measuring just 8.3cm x 8.3cm x 9cm (about 3.3″ x 3.3″ x 3.5″) churns out such loud sound? the magic lies in the 63mm high-excursion BMR (Balance Mode Radiator) driver which harnesses the power of the low power amp to pump out astounding sound without the need for separate tweeter, midrange and woofer drivers. in fact, this same audio technology was found in the latest Bentley Continental too.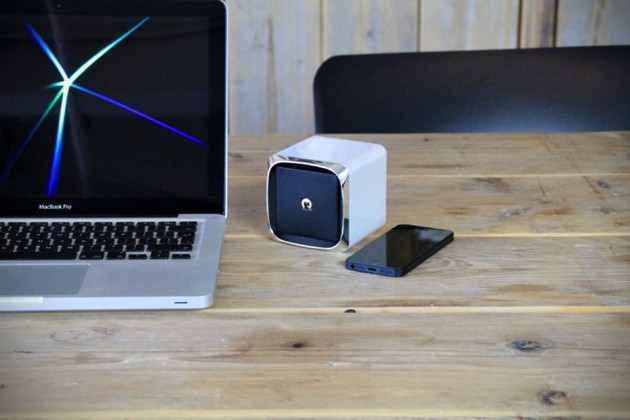 the BMR gets a boost from an innovative low power amp system where the circuit stores the power, ready to for delivery in an instant whenever the driver needs it. the use of the low power amp also makes this speaker a serious juice sipper: it boasts a stunning 50 hours of playtime with just 50 minute of fast charging – a record that's unmatched by today's horde of portable Bluetooth speakers of this size. the speaker uses Bluetooth 4.0 for wireless connectivity, allowing high-quality audio streaming from virtually any Bluetooth-enabled audio sources, though there is also a 3.5mm audio line-in that caters to non-Bluetooth sources too.
speaking of Bluetooth, the speaker uses full stereo Bluetooth 4.0 chip which allows two FS-Xs to be used together as a true stereo setup. so you can have the flexibility of a superb audio monitor at home and grab one to go with you whenever you head out, and most importantly, each speaker won't cause a serious hole in your wallet: the Frankenspiel FS-X 100dB HiFi Bluetooth Speaker is currently running a Kickstarter campaign where as early adopters, you can pre-order one for as low as £45 (or about US$75).