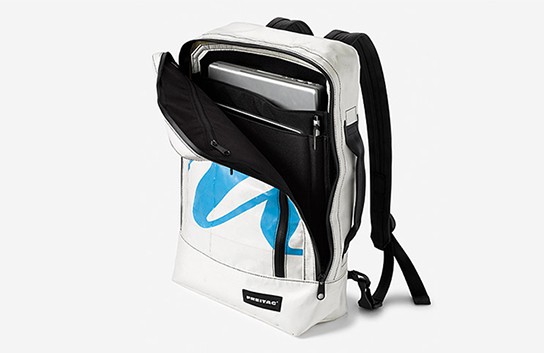 (image credit: FREITAG) FREITAG F48 HAZZARD Backpack | approx. US$325 | www.freitag.ch
with so many shiny gadgets to lug around, we definitely need a bag that is tough enough to lug them around. new from the Switzerland company, Freitag, is the F48 Hazzard Backpack which promise to deliver storage for your electronic gears with diligent toughness. judging in the promo video, we believe this bag was designed with cyclist in mind.
the F48 HAZZARD Backpack is made from used truck tarpaulins and the straps are of used car seat belts. both are tough materials which has been proven by their use in automotive industry. seat belts? well, i guess you can't get any safer than that, unless you want an airbag to go with it.
FREITAG expects the square design would suit "business use without losing uniqueness" and it comes in a variety of design prints and colors. the bag can be easily converted to shoulder bag carrying too. i don't quite agree with "business" unless you are in the creative field. i am not so sure if you would want to bring this to a big corporate meeting.
being unique (and square) will set you back at $325. i'd say that's pretty pricey for a backpack but if being unique is what you are into, then the F48 HAZZARD might be just for you.