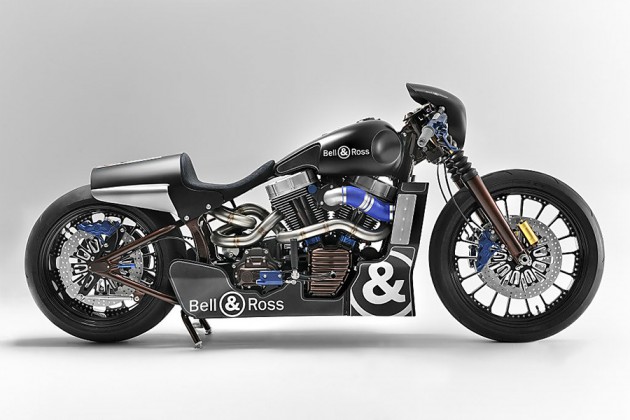 if you have a penchant for luxury time piece and motorcycles, here's a good and bad news for you. Shaw Harley-Davidson, a leading dealership in UK, has teamed up with Bell & Ross to develop a custom motorcycle: the Bell & Ross-inspired Nascafe Racer. now the bad news: it is one-off custom motorcycle based on the Harley-Davidson FXSTB Softail Nightrain. meaning you won't able to lay your hands on one even if you have billions. well, that's quite not true, you can replicate it if you are rich enough to do so. it's just a matter of hacking up a Softail Nightrain and grabbing a BR-01 carbon. anyway, that's beside the point.
this particular Harley-Davidson FXSTB Softail Nightrain went under the knife and was stripped down to the ground by Speed & Custom workshop and rebuilt. the rebuild team mounted a BR-01 Carbon timepiece in a handcrafted center console using a machined section of aluminum. the bike is then given a carbon and stealth-like matt black custom paint job, and accented with anodized blue parts such as the brake calipers, air intake manifold et cetera. we must say the FXSTB Softail Nightrain never looked so good.
the bike made its debut at the London International Custom Bike Show last month and will be seen in other shows this year, including the Dublin International Motorcycle Show.