Well, the much rumored "more affordable" version of the Pixel phone, Pixel 3a, has been made official and it might just appeal to notch-haters because, it ain't got one. But be warned though. It has some rather nasty bezels. Not just the top and chin; the sides too. Ewww… Anyhow… as with previous Pixel phones, two models are offered: a smaller Pixel 3a and a larger Pixel 3a XL.
Aesthetically, they looks nearly identical to the Pixel 3 introduced last October, save for the lack of the notch on the XL model. While the display of both devices are OLED and FHD+ like before, the smaller model's display is teeny weeny "larger" at 5.6" (as opposed to 5.5") while the XL's is a wee smaller, at 6.0" (compared to the 6.3" on the regular XL).
Main snapper is carried over from the regular Pixel 3, complete with 4K recording capability, but the front is now a lone 8 MP fixed focus item paired to a f2.0 lens and a wider field of view at 84-degree. Another key difference is, a lesser processor and in this case, it would be a Qualcomm Snapdragon 670. Both devices gets 4 GB LPDDR4x RAM, but with only one storage option: 64 GB.
On the battery department, the new Pixel 3a devices claim all-day and night use – thanks to larger battery (3,000 mAh and 3,700 mAh). The battery also gets support from 18W fast charging that offers 7 hours use with just 15 minutes charging (there's no wireless charging though). Not only the battery is bigger; generally, both devices are more chunky than its immediate forebear. And oh, perhaps more importantly, Pixel 3a has got headphone jack. Yay? I guess?
Beyond those, expect the pretty much same features, including Night Sight (that's low light photography for those who don't know), Portrait Mode, Depth Editor, Super Res Zoom, unlimited cloud storage and squeeze for Google Assistant feature.
The real magic here is, of course, software offered by Android 9.0 Pie. Google Pixel 3a, along with the entire Pixel lineup, will get a preview of AR in Google Maps where you can see walking direction directions overlaid on the world itself as opposed to a blue dot on a map, like so: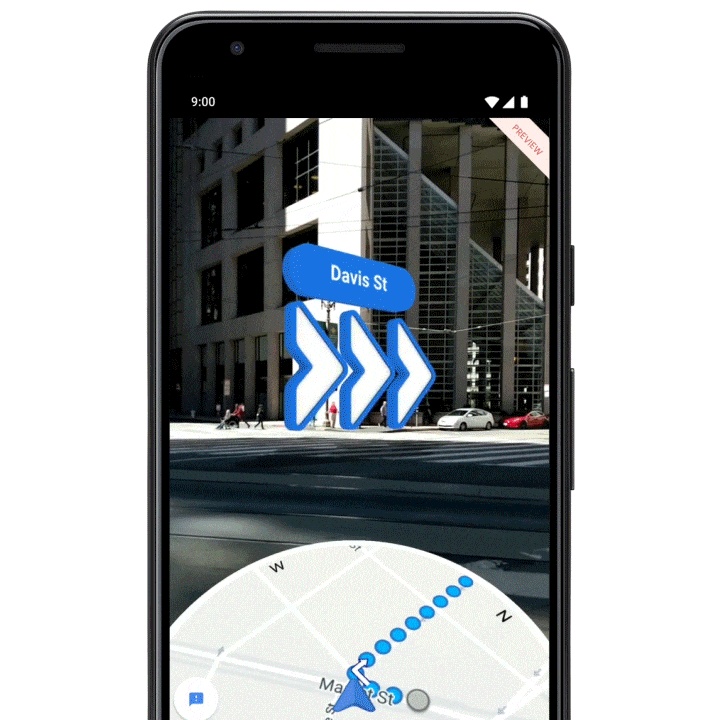 And there is this thing called Google Assistant's Call Screen feature that will let you on the information on the caller even before you pick up the call, and help you to screen those pesky telemarketing calls. But that will only be available in English and in stateside and Canada. As with previous Pixel, Pixel 3a will enjoy three years of security and operating system updates. The custom-made Titan M security chip is present on these devices too. Just thought you should know.
Google Pixel 3a and Pixel 3a XL are available now starting $399 and $479 for the 5.6-inch Pixel 3a and 6.0-inch Pixel 3a XL, respectively. Keep going for the promo video.
All images courtesy of Google.