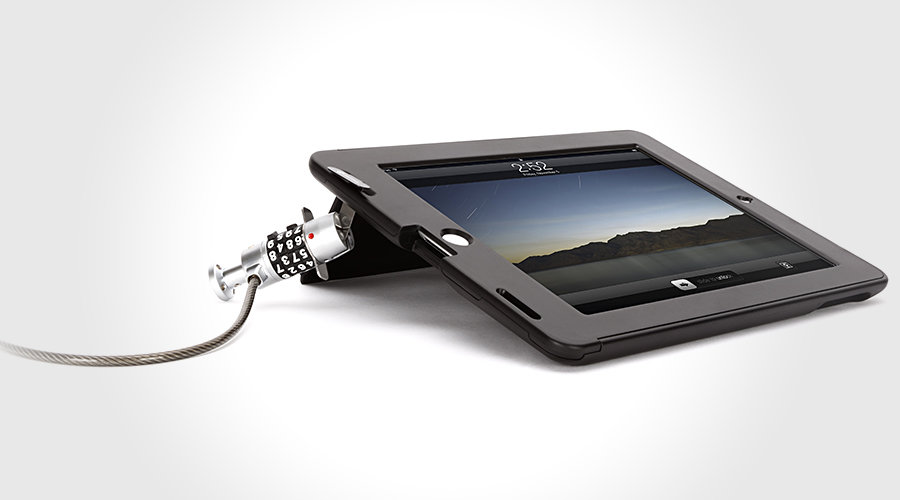 (photos: Griffin) Griffin TechSafe Case for iPad 2 | US$79.99 | www.griffintechnology.com
Find My iPad app may have helped many recovered their precious shiny iPad but as the saying goes, "prevention is better than cure", so it makes perfect sense to deny the bad guys the opportunity to steal. unfortunately, iPad does not have Kensington lock in place like laptops do but luckily we have MacLocks and now, Griffin TechSafe Case to secure your iPad 2. the concept is the same. the lack of Kensington-style lock is made up by a protective polycarbornate case that not only protects your iPad 2 but also provide a vital anchor point for the accompanying desktop cable locking system with 4-digit combination lock. when need your iPad on the go, all you have to do is key in the code, press the lock's plunger, and you are good to go. apart from protection and security, the case also features a pair of foldout work stands, one for inclined typing jobs, and one for an upright landscape viewing. the TechSafe Case for iPad 2 is available now for $79.99. more images and a short PR tidbit after the jump.
[ad#Google Adsense-text-468×60] [toggle title_open="Hide Press Release" title_closed="Show Press Release" hide="yes" border="yes" style="default" excerpt_length="0″ read_more_text="Read More" read_less_text="Read Less" include_excerpt_html="no"]Griffin's TechSafe Case for iPad 2 Now Available
Lock down and protect your iPad 2 with TechSafe
Nashville, TN – September 27, 2011 – Griffin Technology, one of the world's foremost creators of innovations for everyday life, is excited to announce the TechSafe Case for iPad 2. Not just a protective case, TechSafe provides a vital anchor point and the security of a desktop cable locking system.
"The TechSafe Case is the ideal solution to protect your iPad 2 while on the go," said Matt Brown, Director of Category Management at Griffin Technology. "It takes only a few seconds to lock down your iPad, and it removes any opportunity for theft."
Made from protective polycarbonate, the TechSafe Case locks around your iPad and provides a secure anchor point for the included 4-digit combination-lock security cable. Key in the code, press the lock's plunger, and it instantly releases tablet and case for carrying; it's the perfect balance of security and convenience. Griffin provides online storage for your unique 4-digit combination-lock code. Store your code, accessible only by you, at GriffinTechnology.com, and retrieve it anytime.
The case provides not just security and protection, but usability, as well. It features two foldout workstands, one inclined for typing and tapping, and one for upright landscape viewing.
Available at www.griffintechnology.com, the TechSafe Case and Cable Lock is available for $79.99.
For additional information about Griffin products, visit www.griffintechnology.com.
About Griffin Technology
Founded on Paul Griffin's kitchen table in 1992, Griffin Technology Inc., is today one of the world's foremost creators of accessories for home, mobile, and personal technology. Unique products such as iTrip®, PowerMate®, iFM®, iMic® and Evolve® Wireless Speaker System have broken new ground in consumer electronics and created loyal fans the world over. Today, Griffin products are conceived, designed and developed in-house and continue to push the envelope of the industry they helped create. Learn more about Griffin's entire range of ingenious designs atwww.griffintechnology.com, facebook.com/griffintech and twitter.com/griffintech.[/toggle]
SOURCE: Griffin Technology