Apple conceded that Apple Watch has to be charged daily, a gadget scenario that's clearly less than ideal. If you are heavy user, 18 hours battery life is not going to be 18 hours. So, instead of lugging a charger and wall adapter around, Griffin proposed a keychain-sized power bank that will supply your Apple Watch with the much needed juice on-the-go. The power bank, dubbed Griffin Travel Power Bank, comes with an integrated charging pad for charging the Apple Watch and while it packs just 800 mAh of power, it is good enough for up to four full charges before the power bank requires to be recharged via the included micro USB cable.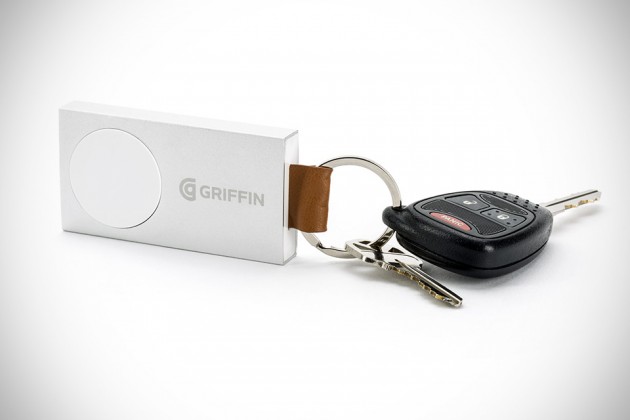 As you can see in the image, the power bank is slightly bigger than a key, which shouldn't be overly cumbersome, but one thing that we do not know is the weight. If its going to be a little weighty, it is going to be nuisance in anyone's pocket. Also, induction charging was never meant for on-the-go charging and therefore, you will have to stop somewhere and look for a level surface for a consistent charge. I guess, it is still better off then squatting next to a wall outlet at a train station.
I am not familiar with Apple's induction charger, but I was wondering is there, by any chance, a strap can be use to secure the watch to the Travel Power Bank? You know, so you can at least leave the two at the bottom of the bag to let it charge without worrying about lose connection and consequently, non-charging? Or does it need to be on level surface? Anyways, Griffin Travel Power Bank for Apple Watch will be available sometime in Q2 2016, priced at $69.99.