hammock is an ideal makeshift resting place for chilling out in your backyard or when hiking in the woods, and while you shouldn't have an issue using it in the backyard, it is an additional package to carry when you are hiking. the thing is, you might not even use this 'additional package' at all. with the HackedPack Hammock Backpack it solves this 'additional package' problem by integrating a triple-stitched nylon 'parachute hammock' into a backpack. since you do need a backpack when conquering the trails, so stuffing a 9.8 feet hammock into the very backpack you need seems like a "why i didn't think of it" idea. the fact that the backpack stays with the hammock even when deployed, solves another in-the-wild issue of 'where do i place my backpack and not having it turning into a makeshift habitat for the insects and small animals?'.
the nylon material is strong enough to hold up to 350 lbs (158 lbs) of weight and is yet light and thin enough to be stuff into a pouch behind the shoulder straps without hindering with your everyday carry. rolling them in after use is much like retrieving a combat parachute, except that you have much lesser to cover which makes pack-and-go a quick and painless process. the HackedPack Hammock Backpack was a successfully funded Kickstarter project which ended last August but if you missed the boat, you still have a chance to grab one off Amazon, albeit at a much dearer price of $199 a pop. skip past the fold for product intro from their Kickstarter campaign to learn more.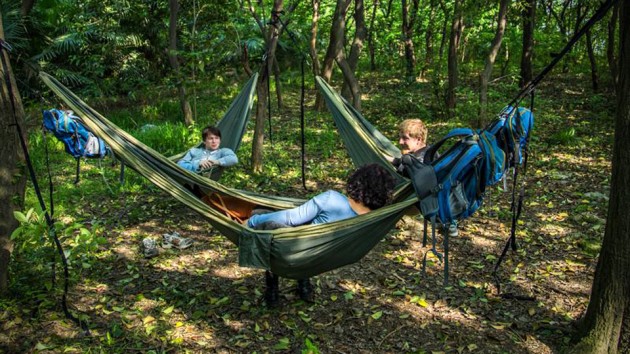 HackedPack via Oh Gizmo!