radio control cars are awesome, but they do require a pretty large real estate and slot cars on the other hand, is restricted to the guide slots, which sort of hampers the realism. this is where British toy company Wow! Stuff wants to fill in the gap. its latest innovation, known as Real FX Radio Control Car Racing System, slots between radio control cars and Scalextric-style track racing, giving you the freedom and control offered by radio control car and a track system much like the slot car's – except that it don't have slots to hinder your car's freedom to maneuver. it won't fly out of the track like Scalextric does. it will, however, skid of out the track like any real race cars if you are not too careful.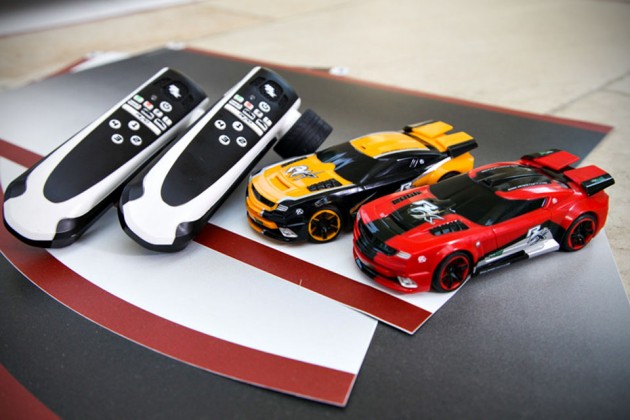 the real ingenuity lies in the artificial intelligence built into the cars that is clever enough to prevent the individual toy race car from straying out of the purpose-built track, but still gives you the control within the track that goes beyond side-by-side overtaking or undertaking. it will still shoot out of track if you becomes too ambitious and tries to defy the law of physics though. in a nutshell, the Real FX Radio Control Car Racing System is a lovechild of a radio control car and a Scalextric system. but the real draw about the Real FX Radio Control Car Racing System is the price; it cost as low as £80, or about US$136, to own. each set includes a flexible and lightweight printed race track segments, at least two futuristic race cars and matching number of wireless controllers.
on top of the low starting price, it is now offering free shipping to anywhere in the world through their Kickstarter campaign. four options are available at the time of this writing: a Starter Set, a Start Set Plus, a Pro Racing Set and a Pro Racing Set Plus. unfortunately, for now, there isn't an option to grab extra cars and controllers separately. if you want more than two cars, the only option is to go for the 'Plus' sets where it comes with three cars and three controllers. as for the track, the Starter has 12 segments and the Pro has a whopping 39 segments, giving you the liberty to create and configure your own ideal track. the real magic lies in the 'game play'. the system allows several play modes, including championship, practice, race with virtual opponent, and even adds track hazards such as virtual oil spill and pit lane stops to upkeep the cars performance. keep going for a pitch video to learn more.