Reinforce your geeky image with the Magic Cube, a levitating laser-lighted prisms that uses a combination of magnetic levitation, prism cube(s) and laser light to create a mesmerizing lighted display piece. A creation by persistent inventor Dale Rorabaugh, who seems to be constantly bursting with ideas, the Magic Cube consists of a cube enclosure crafted from extruded aircraft-grade aluminum made even more awesome by machine-age brushed finish, topped off with a mirrored acrylic surface. Also included in the system is a hover disc that has a payload of up 300g (10.58 oz) and a prism cube. The latter is the object that's responsible for the mesmerizing light effect casted on it from a solid-state green laser embedded in the Magic Cube.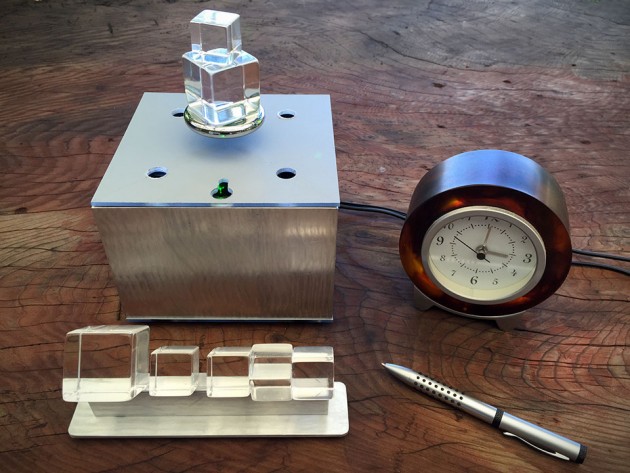 With the hover disc set, you can place the prism cube on it to start hypnotizing yourself with a rather spectacular light show. The small, flat surface of the prism cube can also serve as a display top for small collectibles, memorabilia, or even jewelry. Basically, what you can display is limited to your imagination and of course, the maximum loading capacity of the hover disc which, as said, is 300g. We thought the Magic Cube: Levitating Laser-lighted Prisms is kind of a space age stuff that will, you know, make your humble abode or office desk looks more futuristic, befitting your geeky image. While it is a nice to have product, it doesn't come cheap.
Cool Invent, the company behind Magic Cube, is offering it at an early bird price of $179 over at Kickstarter. Fail to act on it any sooner, you may be looking at $219-$245 per set.
submitted via TIP US page.