So you think word processor on a computer is the typewriter's replacement? It was. Because writer who loves typewriter to work efficiently has to forego the cumbersome machine that had served our forefathers for decades. However, thing is set to change if the inventors of Hemingwrite Typewriter have their way. The funny thing is, this brilliant idea could not have materialized if not for the development of e-ink technology, which is what it uses in place of the eco-unfriendly papers and ink ribbons. So what exactly is the Hemingwrite Typewriter? Well, in simple terms, it is a typewriter for the 21st century. With the Hemingwrite, you get the usual mechanical keys with Cherry MX switches offering you the good'ol tactile feel, but in place of paper, roller, striker and ink ribbons, it has a 6-inch e-ink display boasting 300ppi that displays your input as you type along.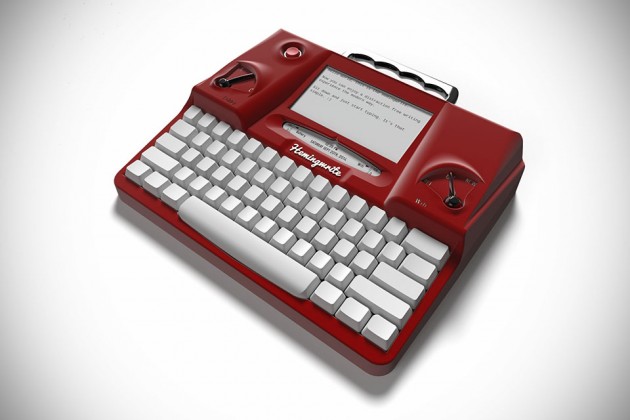 The e-ink display is also the place where you will find essential information like the day, date, time, battery and WiFi status. Being an e-ink-equipped device, it is daylight readable with high contrast display so you can write in any given light conditions and it also boast silly long battery life – over six weeks per charge so you can probably write a book without even reaching out for the wall outlet. There is also an onboard memory for storing over a million pages of text and as a precautionary backup measure, you can also choose to sync your works with Google Docs or Evernote , and review or edit them anytime you desire. Like many of today's gadgets, it is also equipped with WiFi and Bluetooth LE. Last but not the least, it has a beautiful, retro-ish design made from die-cast aluminum, complete with an integrated carry handle for lugging its 4 lbs frame around.
This modern iteration of typewriters is compact too; It measures just 10 inches across, 8 inches wide and just 2.5 inches tall – perfect for bringing along to your summer, cabin in the wood writer's hideout. Hemingwrite Typewriter is dreamed up by MIT graduate in Mechanical Engineering Adam Leeb and software developer, Patrick Paul, who have this thing for simplicity of a typewriter, but conceded that it is outdated and cumbersome, and hence, they decided to do something about it and Hemingwrite was born. Unfortunately, this super cool, writers' dream gadget is yet to be available. There is a prototype though, which is a good thing. You can keep yourself abreast with the developments by signing for updates on their website.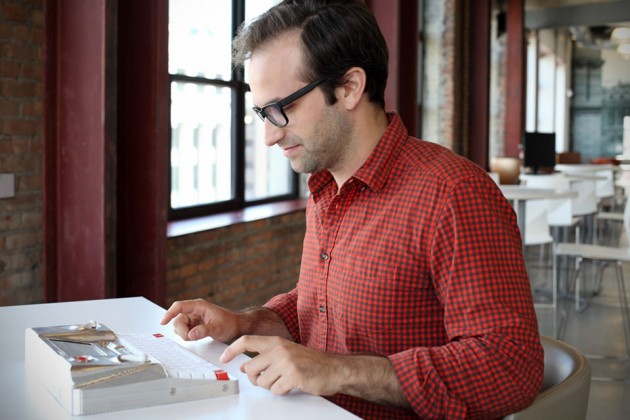 Hemingwrite via Geek