the rich probably don't put a value to what they buy, but if they do, Hennessy is going to make sure their asking price of $1.2 million for the Hennessey Venom F5 will be well worth their money by getting it to an insane top speed of 290 mph (466 km/h!). however, if it didn't, i am sure this sexy beast will still be a trophy any Scrooge McDuckians would love to have parked in their mansion-sized garage. then again, it wouldn't be too far-fetch, considering its predecessor, the Venom GT, has already clocked over 270 mph at the Kennedy Space Center earlier this year. and for the record, that wasn't log by the Guinness Book of World Records. what a shamed, isn't it?
but who cares when the F5, which for your information, is aptly named after a Tornado classification (the highest classification for tornadoes which has an estimated wind speed in excess of 261 mph), already has its sight set on 290? and aiding the F5's endeavor is a 7.0-liter V8 twin turbo engine, reportedly being reworked to spew out a mind-numbing 1,400 horsepower, and a new single-clutch paddle-shift transmission. the F5 is built on Lotus Exige underpinning, wrapped in an all-carbon bodywork with a targeted drag coefficient of "below 0.40", but despite its new found slipperiness, it will have enough downforce to keep it glued to the track. apparently, it will also be bestowed with a GPS-based traction control, which is programmable for specific racing tracks.
speed freaks with boatful of money can look forward to 2015 when the books will be thrown open for you to drop some serious dough to secure yourself one (with delivery is slated to be in 2016). but not many will be going around though; about 30 cars is planned and as for the price, it is not disclosed, but it will cost more than the current Venom GT's $1.2 million price tag. now, don't be too surprise, after all, it is a hypercar striving for the golden 290, which it will probably do so at, where else? Bonneville. salt lake huh? let me know the outcome, will'ya? not sure if i want to witness a beast with 1,400 horses pushing up from the rear tearing across the infamous slippery plain.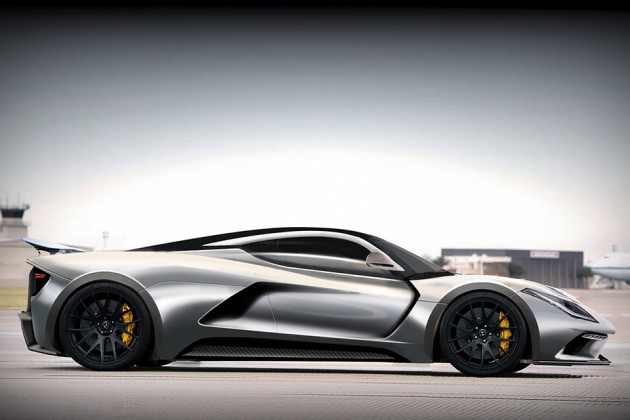 via TopGear