if you live in the constant fear of being fired upon by armed baddies, the pointed star marque has just the ride to keep you very safe and it is called the S600 Guard. while it may look like another S-Class, its model name speaks otherwise. so, yeah, it is an armored S600 limousine, but not just any armored luxe vehicle; the S600 Guard boasts the highest level of ballistic protection to the level of class VR9 – in both transparent and non-transparent areas, and like the rest of the Guard models, it is an ex-factory model. meaning, it rolls out of the factory with the protection built into it. the S600 features protective components of special steel sandwiched between body structure and the outer skin, which are integrated during the car production's bodyshell stage.
layers of aramide and PE components are also incorporated to provide additional splinter protection, while overlapping systems at critical points further ensure the survivability of the occupants. as for the glass, which are often the most vulnerable areas, are coated with polycarbonate on the inside to keep shrapnels at bay and has a laminated structure that offers "outstanding visual characteristics." the protection extends to under of the car with armoring covering almost the entire area of the underbody, which Mercedes said is the first in the civilian special protection segment. in a nutshell, this armored limousine provides ballistic protection against small arms and explosive devices, as well as splintering explosive charge fired at close range on either side.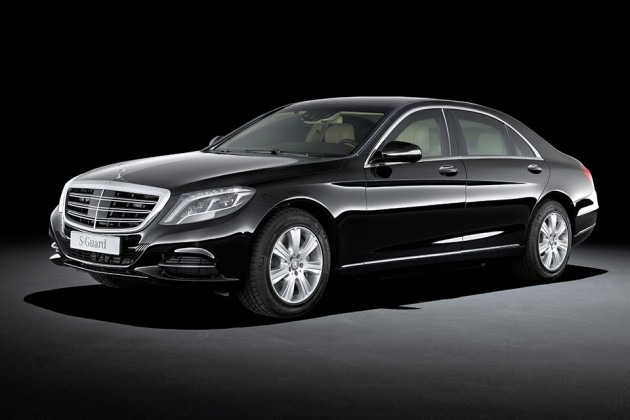 the real kicker is, it looks exactly like the standard model, bearing the same emphatic lines, LED headlamps and rear light clusters et cetera, so no one will ever know, well… unless you are some dignitary, then the strobe lights and pennants might just give a hint that this car may be armored. under the hood, it is has the same twin-turbocharged 6.0-liter V12 petrol engine as found in the regular S600, with 530 horsepower and 612 lb-ft, and is mated to a 7G-TRONIC automatic gearbox that should offer a pretty swift getaway from any hostile situations despite the added heft from all the armored dress up. further peace of mind is offered by Michelin PAX run-flat tires which allows it to run up to 19 miles (30 km) even when damaged.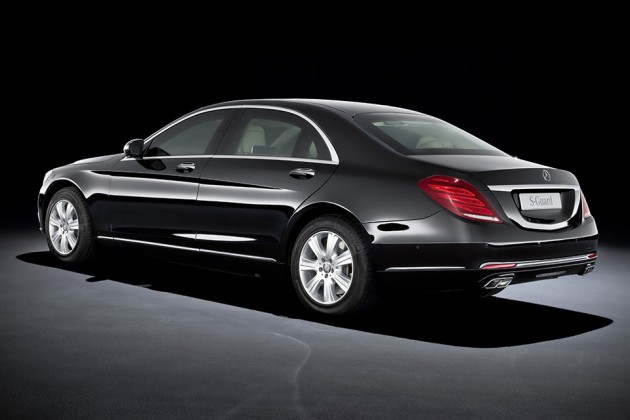 the S600 Guard is also given larger brakes all-round to cope with extra weight, while top speed is limited to just 130 mph (210 km/h) so that car could be stop effectively without compromising safety. being a car pimped with your safety in mind, it has of course other life-saving features such as fresh air supply, emergency backup battery and more, incorporated. so how much is it for the safest car in the world? unfortunately, pricing is unknown at this point, neither was the availability hinted.