If there is one company that impresses me, it would be Hyundai. The South Korean automaker has come a long way since Excel, improving leaps and bounds in design and reliability. But this year is what captures us most, not only did it unveiled its iteration of Vision Gran Turismo for lauded Playstation game, but it also put on the stage three new drool worthy vehicles at the recent Frankfurt Motor Show and they are the new-generation i20 WRC Rally Car, RM15 performance hatch and a luxury sports coupe known as Vision G Coupe Concept.
Hyundai is certainly not new to World Rally Championship, having been involved since as far back as 1998 and this year, the world gets a look at the new-generation i20-based i20 WRC Rally Car. The new WRC car, which is said to have better weight distribution, greater powertrain efficiency and enhanced aerodynamics, is undergoing testing and further tweaks in preparation for its debut at the Rally Monte Carlo in January 2016. Hyundai Motorsport wrapped up this year calendar with rather promising finishes, with exception of a couple of NCs and looking at its history thus far, it looks like the pressure is on the new i20 WRC Rally Car and its drivers to further up the ante.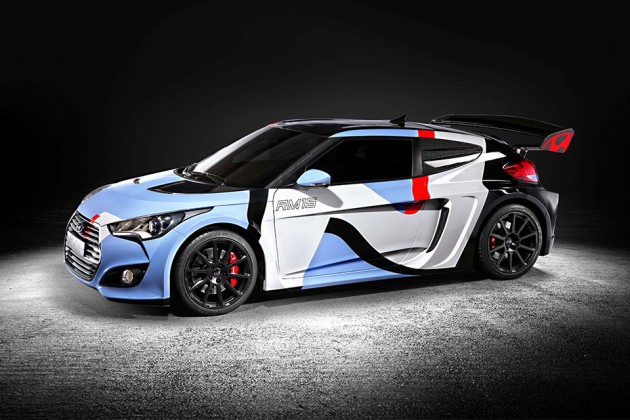 Also announced is the RM15, a mid-engined compact concept that, though not as aggressive as the WRC, gives car enthusiasts an insight into the future of Hyundai hatches. Build around Hyundai's N technology, RM15 features an aluminum space frame, cocooned within a carbon-fiber reinforced plastic (CFRP) body, which affords a 429 lbs (195 kg) of weight saving when compared to an all-steel construction. The mid-engined layout afford a balanced weight distribution of 43% front and 57% rear, while a low CG and 273 lbs of downforce @ 200kph further improves handling at speed.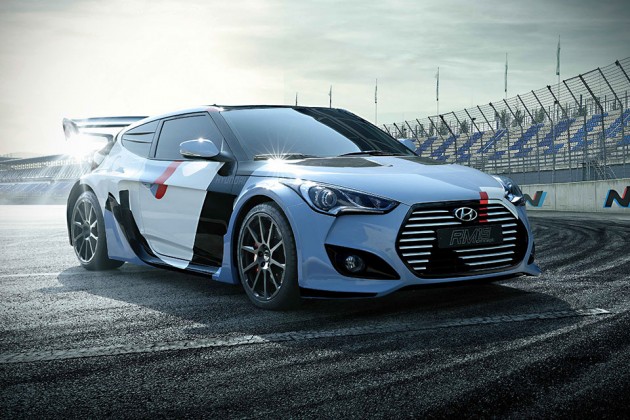 Powered by Hyundai's Theta 2.0L T-GDI motor, the RM15 has 296 ponies on the tap, put to the wheels through a six-speed stick-shifter – a hint of its desire to adhere closely to the motorsporting tradition. And oh, did we mention that it is a 2-seater? Well, don't complain about the lack of seats. Seriously, how often will you find a midship compact hatch? Hardly, but then again, it is just a concept, which may never see the light of production, or at least, not without some major tweaks.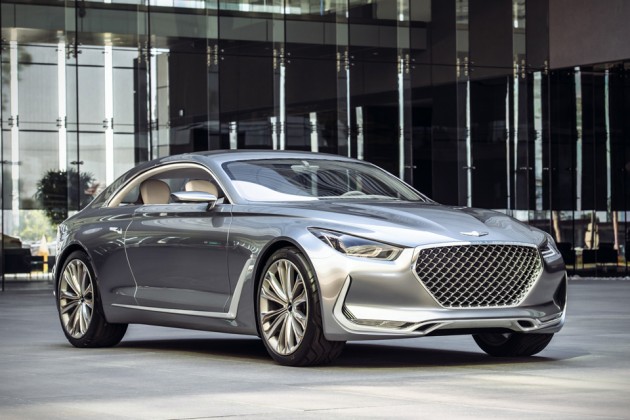 Last but not the least is the Vision G Coupe Concept, which is possibly the best looking coupe to ever emerged from any Hyundai's design studio. Presented in a luxurious silver finish, the Vision G Coupe Concept is direct result of the automaker's passion for performance and luxury. Aesthetically, it is not out-of-this-world, which is a good thing, as it could mean we could be seeing such a vehicle in future, if not near-future.
"Vision G is the first high-end premium coupe by Hyundai Motor. Despite its bold and powerful styling, the concept is purposefully understated, creating a balance of opulence and elegance that will resonate with customers who seek style without pretension," said Peter Schreyer, President and Chief Design Officer of Hyundai Motor Company. "Vision G represents a fresh interpretation of Hyundai Motor's characteristic approach of balancing design and performance, expressed in a way that isn't overburdened with glitz and stereotypical luxury cues."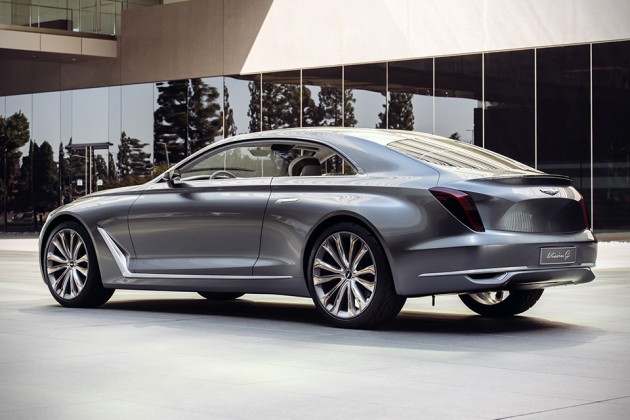 Sporting an Aston Martin-like intake grill, is the first car from Hyundai that gives us the feeling that it is ready to pounce at any given moment. It has an unmistakable luxurious look that's also extremely sporty. While 420 horses and 383 lb-ft of torque from its 5.0L Tau V8 unit won't eat everything for breakfast, it should be more than ample to propel this beauty in a confident manner. There are a few engineering features under the hood that promised to deliver a quieter and more efficient ride.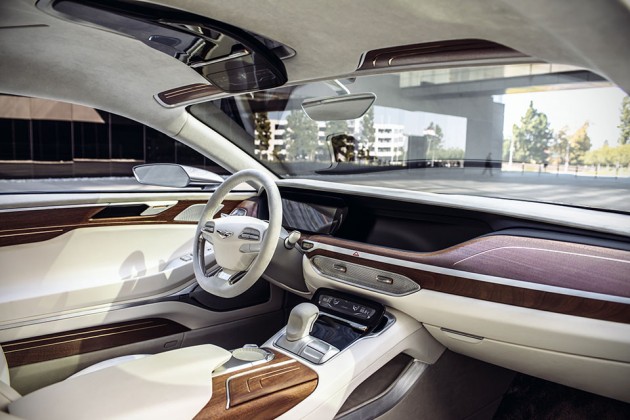 On the inside, it is all about the driver with distraction-free environment made possible by a virtually button-less setup. In place of buttons, it has Remote Wheel, a semi-sphere haptic touchpad found at the center console, that allows for interaction with the whatever you need with gestures, as well as curved display feeding driver with clear, detailed information. The preferred display is customizable too, allowing driver to switch between cluster and center fascia so that they can keep their eyes on the road.
As with many concepts, there's no telling if the Vision G Coupe Concept will ever make it to the production, but we are sure we will be seeing something similar in Hyundai's lineup soon enough.