So you are awe by fireworks? Well, we got news for you. The future of fireworks could be obscure by drones with lights as the night sky art/entertainment of choice. At least, that's what we think could be the trend now that Intel shown us what it is like to have 100 drone with lights up in the night sky, syncopated to a live orchestra performing Beethoven's Fifth Symphony. Intel aims to "push the boundaries and show people an exciting new way to experience the wonders of drone technology." Not only the project was a success, Intel also bagged a Guinness World Record for most UAVs airborne simultaneously.
Spearheaded by Intel's Marking Director of Perceptual Computing Anil Nanduri, a group of artists and technology researchers at Ars Electronica Futurelab in Linz, Austria, created this mind-blowing spectacle of 100 light-equipped drones dancing and painting 3D shapes and messages in the night sky above Flugplatz Ahrenlohe, Tornesch, near Hamburg, Germany in early November. Intel CEO Brian Krzanich said the project, dubbed Drone 100, refined fireworks experience without the inherent risks of traditional pyrotechnics. We can't agree more and that's not to mention, the smog each time fireworks initiate.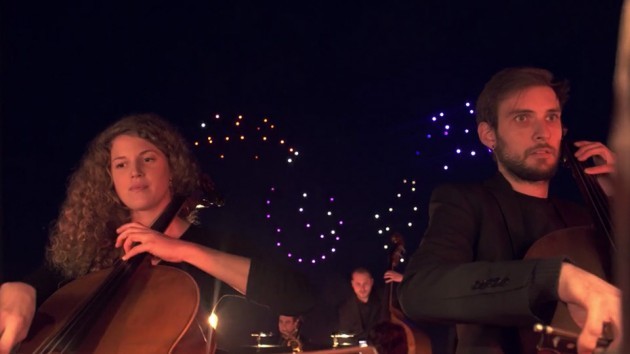 "The past can be replaced by new creativity powered by drones," he said, adding, "this is what it means to reinvent experiences using new technology." Maneuvering a swarm of drones in the sky is delicate task and thus, before they could take to the skies, a ground control software has to be created to enable the drones to follow a preset flight paths, turn on and off lights and move succinctly with one another to the orchestra music. The result is, it only took four pilots to execute the entire proceeding with each pilot controlling 25 drones, as opposed to 100 pilots, which would have complicated the task further.