We have seen and fell in love with tons of Iron Man collectible figures. Though they are accurate as they gets, there is still something missing. Something which we can't put a finger on… until now. The missing puzzle is the material used: plastic, which clearly, does not quite fit its namesake. It's Iron Man that we are talking about and why should it clad in plastic armor? No way, Jose! and this is why serious Iron Man enthusiasts, fanboys, collectors and all, should look at the Iron Man 3 Mark XLIII 1/6th Scale Collectible Diecast Figure by Hot Toys. Yes. It is a mouthful, but we are enchanted nonetheless for obvious reason. With metal in the mix, we bet everyone's favorite silverscreen iteration of the iron-clad superhero will be even more realistic.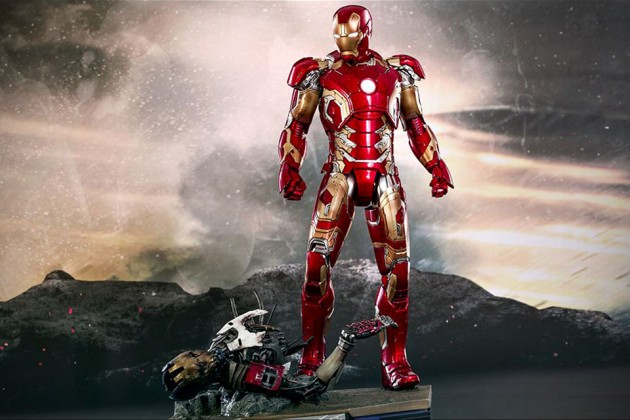 While it may not be the bullet deflecting cold hard steel (or whatever metal alloy Stark used), it is as close as it gets to the real deal, after all, diecast is still metal, right? And to be realistic, if it was of some exotic materials, it wouldn't have cost "just" $344.99, which is the asking price for this piece of masterpiece. Fans may have already noted from the product name, this particular collectible figure is based on the upcoming Avengers: Age of Ultron and is part of the Hong Kong-based toys maker's MMS Diecast Series. As before, the Mark XLIII (it's 43, in case you need help in translating the number) is movie-accurate and boast highly detailed features like a newly-painted, helmeted head sculpt in the likeness of Robert Downey Jr, metallic red, gold and silver armor with weathered effects, LED light-up functions, and a specially designed diorama base with a beaten up Ultron Mark I.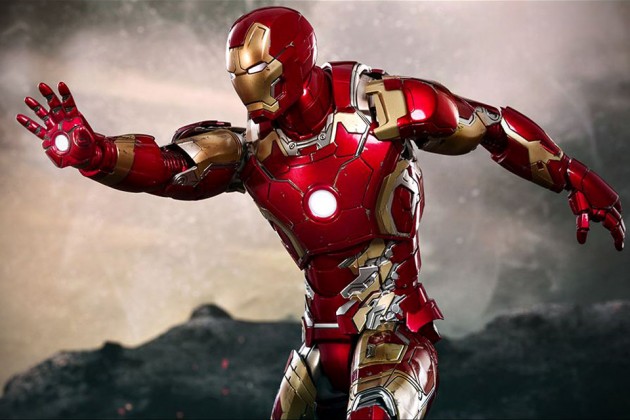 Other tidbits include over 36 points of articulation, fully deployable air flaps at the back of the armor, articulations on waist armor for flexible movement, plus a bunch of interchangeable parts like forearm rocket armor, palms with movable fingers and light-up repulsors and more. Additionally, select markets will get a special edition that includes a LED lighted battle damaged helmet as bonus accessory. The book is open for pre-order as we speak with delivery expected to happen in August 2015. It's a shame it can't happen before the movie hits the theater in May 2015, eh?