the last of the Iron Man has a lot for fans to remember by, mainly because it tickles fans imaginations with a myriad of Iron Man suits that will probably never see much air time again. but not to worry, you can always collect them in their 1/6th glory as they are introduced by celebrated toy maker Hot Toys and this time round, it is the Peacemaker Mark XXXVI's turn that wants Iron Man fans to shut up and hand over the money. the Mark XXXVI is designed by engineering whiz and billionaire industrialist, philanthropist and part time playboy, Tony Stark as a riot control suit and hence, the brightly-colored variation and the 'extra thick armor'. why it is nicknamed 'Peacekeeper' is no mystery here. though, it is not like other suits can't do the job in 'keeping peace'.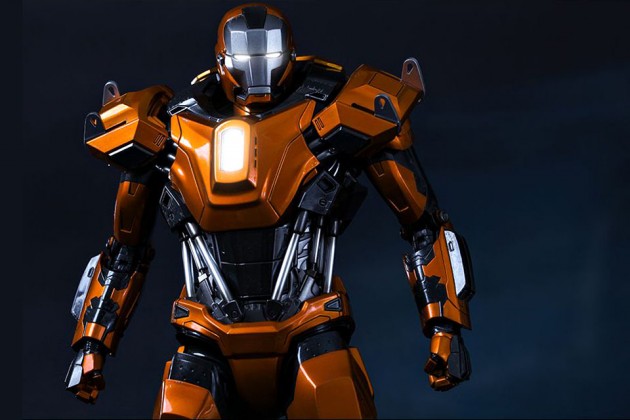 continuing with the "House Party Protocol" collection, the Iron Man 3 Peacemaker Mark XXXVI 1/6th Scale Collectible Figure By Hot Toys is garb in a sharper and significantly bulkier armor suit, painted in a special metallic orange, punctuated by dark grey and silver painting with distress effect on the armor. it has many familiar Hot Toys features including LED light-up functions, over 30 points of articulations, three pairs of interchangeable palms, one circular figure stage with stand for display – complete with decorative caution labels for customization. it will be available in select markets only, but as far as U.S. fans are concerned, you guys are in luck as Sideshow Toys will be carrying them. as for the price, it is as always, never cheap. the Iron Man 3 Peacemaker Mark XXXVI 1/6th Scale Collectible Figure By Hot Toys will run you back at $269.99.
if this House Party Protocol thing keeps going, and assuming each were to carry the same price tag, you would need to drop nearly ten grand on them. wow. though you don't need to be Tony Stark to own them all, if they were to be available altogether, still, you will need a pretty seizable disposal income to own them anyway. me? obviously, i don't have that kind of money. i am cool to be looking at the product images and occasionally, ogle over them in person at my local toy shops.