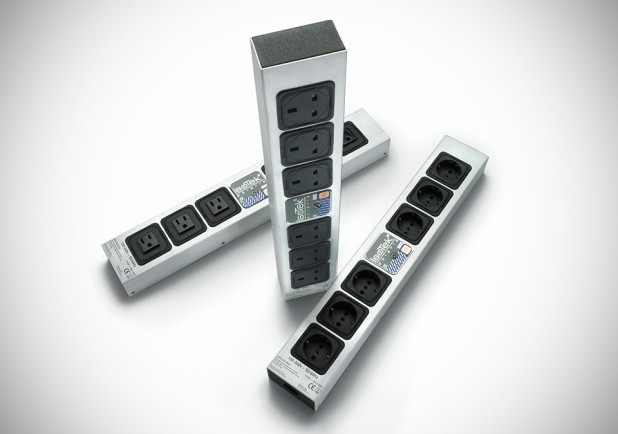 IsoTek Discovery Series EVO3 Power Products | from £79.95 | www.isoteksystems.com
if you are a true audiophile, then we suppose sound system is more than what you after and you will be probably bothered as much by those 'dirty' electricity that's coming out of your home's mains. what you thousand dollars audio system need is a 'clean' and uncompromised electrical supply for which the new IsoTek Discovery Series EVO3 Power Products would be able to deliver. the trio comprises of the EVO3 Polaris, a six-way mains conditioning block; EVO3 Mini Mira, a mains conditioning device designed for TVs and projectors; and EVO3 Premier, a high-performance power cable. kicking off the gang of three is the EVO3 Polaris (£249.95 or about US$400) that features delta filter topology to offer class-leading filtration of both Common Mode and Differential Mode main noises, giving you super-clean power out from its six outlets. other highlights of the EVO3 Polaris include 13,500A of instantaneous protection against spikes and surges, individually isolated outlet with IsoTek's Polaris X technology to prevent cross-contamination, hand-soldered parts, silver-plated PCB, internal wiring with silver-coated 99.9999% OFC (oxygen-free copper) conductors, a Teflon PTFE dielectric and a rugged, steel and aluminum finish casework wraps up this functional package.
often TVs and projectors are forgotten equipment that could need some protection against undesirable frequencies for which the EVO3 Mini Mira (£194.95 or roughly US$310) would gladly do that. clad within that shiny metal chassis is IsoTek's proprietary Triple Resonant Filter that's designed to are offer frequencies critical to picture quality and at the same time, offers protection against spikes and surges. other features include shunt and delta filters, auto-sensing Adaptive Gating technology, and a pair of power outlets to feed virtually almost any type of display (plasma, HDTV, projectors et cetera) and peripherals such as set-top box or Blu-ray player. last but not least, a system is not yet perfect without a high-quality power cable and to which this sub-£100 power cable, the EVO3 Premier (£79.95 or around US$130) is ready to be at your service. needless to say, quality and advanced construction are standards and this striking cable features three 2 square millimeter conductors made from 99.9999% OFC and coated in silver for enhanced conductivity, with a Teflon FEP dielectric extruded over each. other features rotational twist on all three conductors to aid in EMI/RFI rejection, cotton fiber wraps for the added strength and reduce microphone, high-quality moulded connectors, 24ct gold coated solid copper conductor pins and a paper wrap for the added dielectric buffer and heat-resistant PVC outer sheath completes the package. available from this month onwards. larger views follows after the break.