If you are big fan of the Steven Spielberg's JAWS, then you should already own at least one of the posters penned by legendary American artist Roger Kastel. There were a few versions of JAWS posters, but the most iconic one would the one featuring a lady swimming on the surface and the infamous Bruce lurking beneath (no doubt preparing to chomp her down whole!).
It was most talked about and recognizable movie posters to emerged in the 20th century. Roger's creation was used for the book cover of JAWS and subsequently, adapted into the movie poster that movie buffs remembered fondly. Now, for the good news. Vice Press, in collaboration with Bottleneck Gallery, are giving both the book cover version as well as the legendary movie poster the lenticular treatment.
That's right. The iconic JAWS is not brought to life and I am truly smitten by this news. It may not be the original poster, but to be able to see it come alive as you look at it at different angles is pretty amazing.
There are a few print version. A 4 mm plex of the JAWS lenticular with movie credits, a 1 mm version of the JAWS art print lenticular, and a 4 mm plex version of the JAWS art. In addition, there is a 1 mm version of the JAWS lenticular with movie credits will be available as a time limited item until Sunday (11/10), 11:59PM.
Prices start at US$100 (£75). If you want one, be sure to act on it quick because, a couple of versions have already sold out.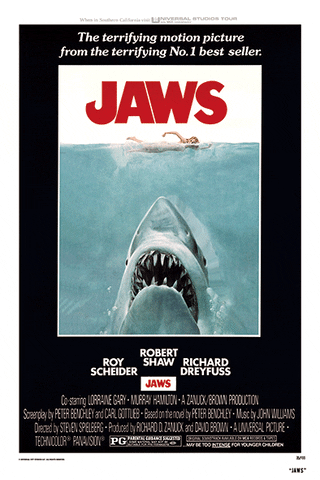 All images courtesy of Bottleneck Gallery/Vice Press.