Here's one for adult LEGO Fairground collection collectors: the new LEGO 10273 Creator Expert Haunted House! And it is looking absolutely amazing. Or perhaps it was the marketing photos that make it look amazing? Whatever it is, I am digging it even though I am not a big Fairground fan.
LEGO 10273 Haunted House is a huge set that packs 3,231 pieces and it is based on LEGO minifigure villain Samuel Von Barron's mansion, Manor Von Barron. I think the star feature would be the fully functional free-fall ride with automatic doors.
Moreover, expert builders can choose to add LEGO Powered Up components, sold separately to control and amplify the set through LEGO's Powered Up app.
This is definitely no child's play and it sure isn't as it is designed with adults in mind, specifically, for person ages 18 and up.
Even the packaging is adult-focused and while it is rightly a Creator Expert set, the branding has been dropped.
LEGO 10273 Creator Haunted House Set's exterior can be opened and let you into the hidden features inside where you will find Von Barron's extensive collection stolen artefacts that, interestingly, is a nod to LEGO bricks sets of the past.
LEGO 10273 Creator Haunted House Set will sell for US$249.99, starting June 1st. VIP members can secure the set since May 20. The set is/will available from LEGO.com as well as LEGO Stores where they are open.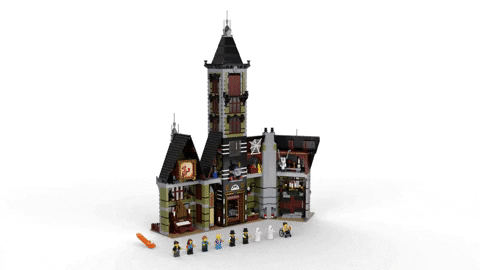 All images courtesy of LEGO.