We all know Tony Stark's Iron Man Hulkbuster is going to appear in the second Avengers flick, The Age of Ultron. I am sure Iron Man's fans, us included, are looking forward to it and being LEGO fans ourselves, we are also looking forward to a LEGO, preferably a UCS variant, of the Hulkbuster. There will be, definitely, but just that it probably won't be UCS anyways. So your best bet is to vote up custom LEGO builder Jon San Pedro's LEGO Iron Man Hulkbuster Project on LEGO Ideas. This project was submitted back in May 2013 (when it was still known as Cuusoo) and have since received over 7,000 supporters. However, it needs 10,000 votes to be considered by the Danish toy maker as an official set. That said, it has 92 days left on the calendar, which means if all of us fans want to see this beauty getting a shot as an official LEGO set, we all have to put in our votes.
Me? I am undecided. Jon's version is definitely awesome, but the color kind of gets to me. It could be lighting of the photos, but I could never get over a bright red Iron Man, but as far as the structure is concerned, it is no doubt a beauty and kudos to Jon for coming out with the build. Jon said his iteration is actually inspired by several versions of the Hulkbuster and this version he submitted to LEGO Ideas has been through several updates and upgrades (he calls it "Version 3.0" but we will take it as Jon's Iron Man Hulkbuster Mark III). The set is planned to come with an Iron Man minifigure, which can placed inside the massive Hulkbuster, Pepper Pots minifigure, as well as Hulk Macrofigure. Here's what Jon had to say about his design:
"The overall design objective is to give the Hulkbuster a "solid" look, and with a little bit of height advantage (but not overly) can take a beating from the Incredible Hulk — and beat him to a pulp at the same time."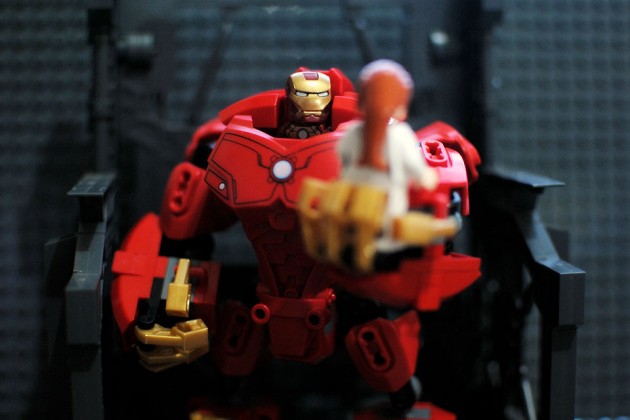 Other details include a compartment for Iron Man minifigure, boosters under the feet, rocket boosters under the back flaps, hip thrusters, appropriate gold pieces and accents, side chest vents and tap accents. Like I said, it is all awesomeness except of the unusually bright red colorway. The gold is pretty cool though. Anyways, I am sure LEGO can do something about the color of the bricks if it ever gets to production. Right, LEGO?