When immersed in the world of large display smartphones, we hardly give a thought that there are actually phones that aren't 'smart', much less one in claim shell design. Apparently, like Japan, the latter is still very much alive and kicking, and not only that, LG has given it a dose of Android. The device in question, which actually looks rather sweet, is the LG Gentle. This Android 5.1 Lollipop-powered device looks like the flip phones you would find in the 90s, except that it is a little classier – thanks in part to the faux leather wrap.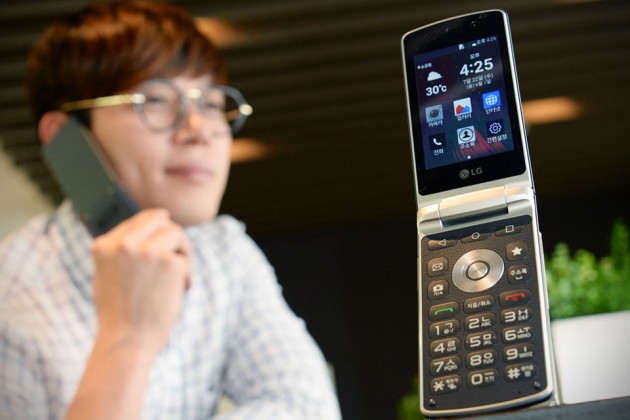 While it may look like the flip phone of the 90s, the spec is rather modern, albeit on the modest side. It includes a 3.2" touchscreen display with 480 x 320 pixels, 1.1GHz quad-core processor backed by 1GB RAM, 4GB of storage, microSD card slot, a rear 3MP rear-facing camera, a VGA front-facing camera, a 1,700 mAh battery, and Bluetooth, as well as WiFi connectivity. As you can see, the tech it has is not exactly bleeding edge, but it is more like a reboot of a gadget of the past (think reboot movies) with slightly modern innards and features to suit today's usage.
And costing just 200,000 Won a pop (about US$172, at time of this writing), it is probably not targeted at the large pool of gadget heads. In any case, you won't have to worry about it because it is unlikely such a phone will venture outside of its home ground in South Korea. However, if you really want one, then I think it is time to dig up any Korean contacts you have over there to acquire one for you. But check the band first before you do anything.