marrying the mesmerizing psychedelic disco funk and the sport of beer pong is this Light Up LED Beer Pong Table (officially, 'Glowing Infinity Music Party Table') that is going to change the way you look at beer pong – literally. sporting a non-rust metal construction that is designed to withstand the full on blow of any given parties, the Light Up LED Beer Pong Table promised to spice up your beer pong challenge by introducing a spectacular light show. thanks to the incorporation of 600 LED RGB lights that offers up to 16 colors and four display modes and an infinity mirror-style glass plating table top that creates the illusion of an endless, hypnotizing space. looking at the Light Up LED Beer Pong Table in awe, we can't help but to be reminded of the iconic "yeah, baby. yeah" line, famously exclaimed by, well… you know who, don't you?
you can choose to let the music built-in sensors run the light show by changing colors and flashing to the surrounding music, or take the rein by controlling it manually via the supplied IR remote control. the table has detachable legs and folding center, allowing it to be fold down to half the size for easy storage and transportation, while magnetic closure is in place to ensure the table stay closed as it should. if there's one thing that is missing from your man cave, it would be this Light Up LED Beer Pong Table. speaking of which, the product will be heading to Kickstarter on March 23 where early adopters will be able to score one for $100 off at just 375 bucks. keep going for a pair of videos to see the light show party table in action. warning: folks suffering from photosensitive epilepsy might want to keep away from these videos. just thought that you should know.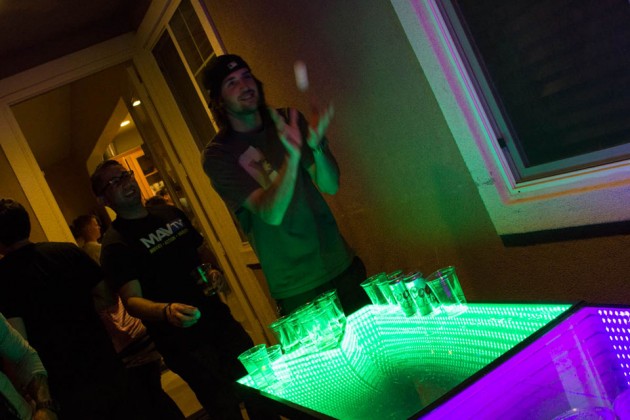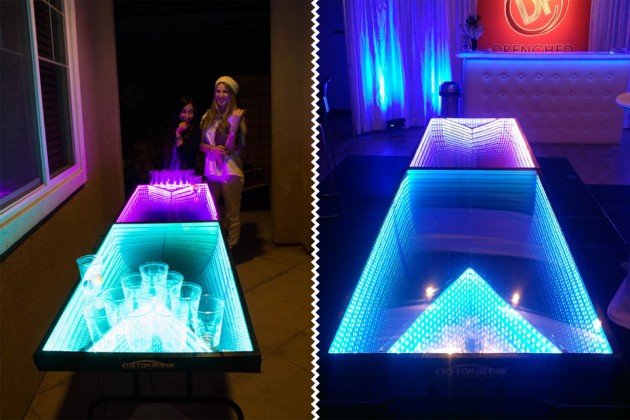 a huge thanks to Ailsa for the hat tip!