Since a real Batmobile is out of reach, or not street legal, most fans of Batman would settle for scale models like I do. However, considering that there may be some wealthier Bat fans out there, perhaps a luxury scale model like the Limited Edition Swarovski Batmobile would be more appropriate.
Yes. Swarovski Batmobile is a thing. I never thought I would one day see a crystals-covered 1989 Batmobile, but here it is – albeit its just a scale model. And it can be yours to own for "just" US$8,900. It's a fraction of what a real-life, turbine-powered 1989 Batmobile commands.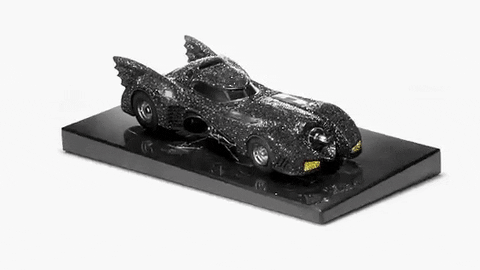 For nearly 9 grand, you will score one of the 200 pieces available, each embellished with over 16,000 hand-set crystals using the Pointiage technique and features black rubber tires and polished metal details.
Swarovski wants to remind buyers that the Limited Edition Swarovski Batmobile not a toy and not suitable for children under 15. Like, the price hasn't hinted that… Plus you wouldn't want kids to be mucking with a $9,000 collectible anyways.
Images: Swarovski.
Source: Dude.