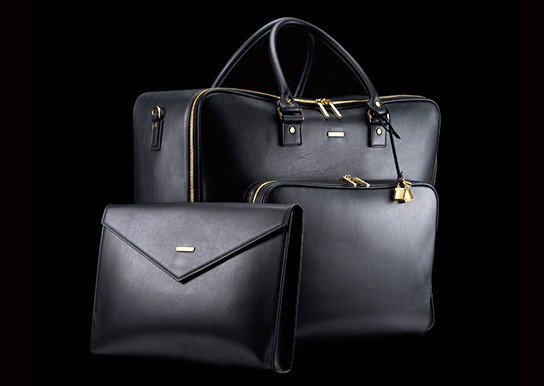 (image credit: Mark/Giusti) Mark/Giusti 'Jet Set' Saddle Leather Travel Bag | £3,100.00 | www.markgiusti.com
there is something about leather goods that's mysteriously alluring or perhaps, it only applies to yours truly here. speaking of which we want to feature this new leather goods from luxury brand Mark/Giusti that speaks of both luxury and sophistication at the same time. introducing the limited edition 'Jet Set' Saddle Leather Travel Bag, especially handcrafted by Mark/Giusti for 20ltd.com.
[ad#Google Adsense-text-468×60]
the 'Jet Set' consists of two separate bags, namely, an overnighter and a laptop bag which fits nicely into the overnighter's front laptop compartment. frequent flyers will appreciate the convenience of an external laptop compartment during the security checks where laptops are expected to be removed from its bag. the Mark Giusti's item makes such a chore a more pleasant one without messing up the overnighter's content.
the interior lining's design drew its inspiration from the original mosaic strips found in the Basilica di San Marco in Venice, Italy. the overnighter itself comes with separate companion bags, namely, a shoe bag, a shirt bag and a toiletry bag, to let you better organize you content. sounds like you could stuff a lot of items into this compact-sized carrier which incidentally, is small enough to use as a hang carry luggage. makes sense, you wouldn't want to check it a £3,000 bag (and risk getting thrown around), do you?
the midnight blue edition 'Jet Set' measures 55-cm x 25-cm x 45-cm and only 12 editions are available (note: standard edition are in black roxy green). the Mark/Giusti 'Jet Set' Saddle Leather Travel Bag will set you back at a cool £3,100 (approximately US$5,000) and is available via the 20ltd online store. it is one luxury leather goods for the rich who don't fancy mainstream designer brands like LV, Gucci and the likes.