Lets face it. However big is your phone or tablet, nothing beats the big screen, but that's also a problem: not everywhere you go, there will be a big screen TV waiting for you. This is where portable projectors can come in really handy. Surely the market is not lacking of projectors, but today, CDW-own Magnasonic up the portable projector game with a seriously small device, dubbed Magnasonic LED Pocket Pico DLP Projector. Billed as the world's smallest pocketable, portable DLP projector, the LED Pocket Pico DLP Projector is no bigger than an iPhone 6s Plus, measuring a diminutive 3.9 x 3.0 x 0.5 inches and tipping the scale at a mere 0.28 lbs.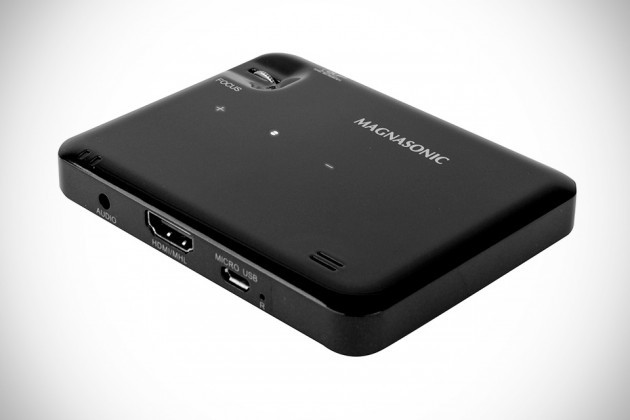 It may be tiny, but the LED Pocket Pico DLP Projector is still capable of projecting content up to 60 inch in size, through 25 lumen LED light engines powered by Texas instruments. Image quality is assured by Digital Light Processing technology, however, do not expect it to be eye-watering cos' the resolution tops out at a 640 x 360 with 1100:1 high contrast ratio. The fact that it can accept input up to 1080p is non-consequential. It comes packed with a 2,100 mAh battery that offers up to two hours of usage on a single charge. Charging is via a micro USB port.
The device provides one two other ports: a HDMI/MHL port to hook with your smartphone or laptop and an audio output for your headphones or external speakers. Though, the device itself does have a built-in 1W speakers, but it probably won't have enough omph. Beyond the mentioned, there's really nothing fancy, but I guess that's what most people need: a simple device that projects wherever, whenever, without being weighed down. The Magnasonic LED Pocket Pico DLP Projector is available now through Magnasonic website for $169.99 a pop.