What you see here is not a sentinel robot from sci-fi movies and neither is it Tony Stark's technology; it is a pair of flashlight. Called Repulsor, this pair of futuristic-looking flashlights lets you shine hundreds of feet ahead, handsfree. It is designed to cringe onto your waist, on your chinos or jeans' belt. The flashlight is made up of three section with flexible fasteners in between them, thus allowing each individual light to be adjusted to any direction, which will come in handy if you need to illuminate two different places – even in opposite directions of each other. With the appropriate fastener, it can also double as your bicycles headlights.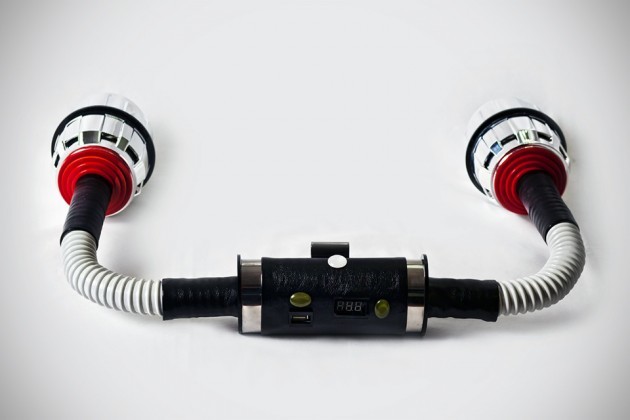 In an age where LED reins supreme, Repulsor chose to look other way by using Xenon HID lamp, each offering 50w of power with up to 2,500 hours of lamp life. Together, the duo offers 7911 lumens at 4,300K color temperature with a throw that reaches a staggering 2,300 feet! The hardware is composed of military-spec anodized aluminum (MIL-A-8625, Type III) that should stand up to regular abuses like scratches, and bumps and knocks, and the lenses are of toughened ultra-clear glass. The lights are powered by a 8,000 or 12,000 mAh lithium-ion battery, good for up to 90/115 minutes of runtime per charge, which takes an hour each time.
Finally, the onboard, rechargeable battery can also be used to juice up your USB-powered portable devices, like your smartphone or tablet, when the need arises. The Repulsor Handsfree Flashlights is not available yet, but it will be soon, starting with a Kickstarter campaign, where you will be able to secure an unit for $175-199. More product look after the break.