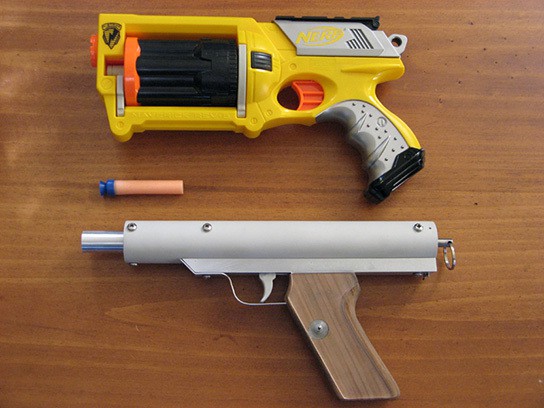 (image credit: Asciimation)
this dude over in New Zealand, not satisfied with the toy NERF Maverick's performance, decided to build a better NERF gun. the result is this more powerful, spring actuated pistol that looks like something that came out of the 70s James Bond movie. when i first saw this, the first thing i related it to was the Golden Gun from the 1974 James Bond movie, The Man with The Golden Gun.
completely hand-built, this awesome looking toy pistol was constructed out of metal, PVC pipe, wood and plastic. if you think you have what it takes to built a similar unit, you can head on to Asciimation blog and follow his instruction. i think i will stick to my transparent NERF Maverick for now.
via DVICE