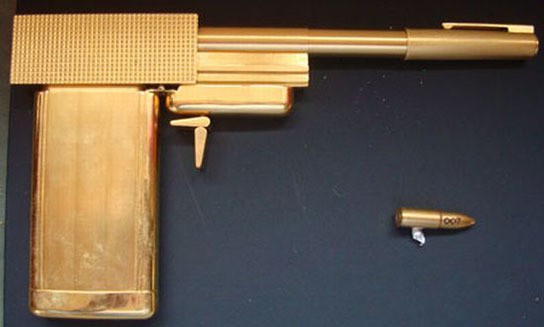 (image credit: Hansons Acutioneers)
remember the golden gun that was assembled from a cigarette case, lighter, cufflink and a pen in the James Bond movie, The Man With The Golden Gun (MGM, 1974)? here's a golden opportunity for James Bond fans to lay your their hands on a replica item when it goes under the hammer on January 20, 2011. to be auctioned by Hansons Auctioneers, the golden gun replica is expected to fetch between £1,000 and £1,500. this solid gold plated replica pistol comes complete with a gold bullet with '007' written on it and can be assembled just like the original one featured in the movie.
i am impressed by the solid gold plating but not the gun. while the idea of assembling a pistol out of everyday item could be a novel idea back in the 70s, i still think the gun looks a bit off. so this item is strictly for die-hard James Bond fans. perhaps, we could take it apart and use the different item separately? if the individual items are indeed functional… but i guess the cufflink should at least works.
via BornRich