drug use, illicit or not, driver fatigue, distractions, unfamiliar roads, failure to check blind spots are just some of main cause of heavy truck accidents which, according to a study, accounts for as many as 3,757 death in 2011 in the U.S. alone and often the trucks involved are heavy truck weighing over 10,000 lbs and usually were combination trucks such as semi, or prime mover or trailer as it is sometime refer to. with more large commercial trucks expected to ply the roads, things could only get worst, but not if Mercedes-Benz could help it. the Future Truck 2015 is the German automaker's answer to most of the problems, if not all, faced by today's transportation companies that could be reality in just ten years time (hence: 2025).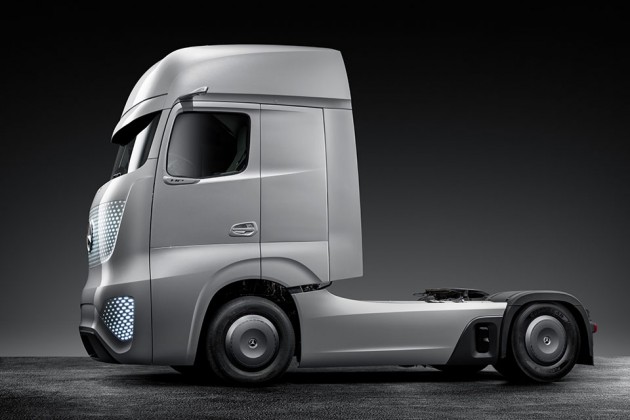 the truck was in development for quite a while now and its capabilities were demonstrated back in July when it traveled autonomously at speeds up to 50 mph (80 km/h) in a realistic traffic situations on a section of the A14 motorway in Magdeburg, Germany. back then, it was covered in camouflage, but months later, the automaker has unveiled its official look, inside and out, at the 65th IAA Commercial Vehicles Show in Hannover, happening from September 25th through to October 2nd, 2014. with an autonomous truck, it works pretty much like an auto-pilot system on commercial aircrafts where human attributed errors will be eliminated.
of course, there will still be driver, but now, the driver will presumably be more sophisticated and the roomy cabin of the self-driving truck will be his or her mobile office, complete with an advanced navigation system with three-dimensional digital map. the truck also features Blind Spot Assist to further enhance the driving safety through the use of sensors that alert the driver to presence of other road users on either side of the truck which may otherwise not be visible. safety matters aside, the truck of the future is presented with an aesthetic that befits its name. it has futuristic front end that's rounder and smoother, presumably for aerodynamic efficiency, if ever so slightly, and in the daylight, it seems to be void of any lightings. but in actual fact, it has an array of LEDs embedded into the front that seems to light up from beneath the skin.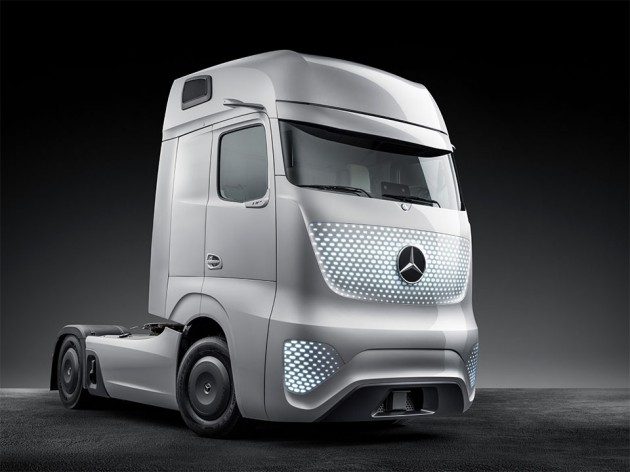 the interior is akin to an office, finished in natural materials with a flowing design and is furnished with two seats, each away from the other. the driver seat can be swiveled to 45 degrees, while another seat located back of the right hand side is a place for perhaps a second driver or for the driver to relax in between long journeys. however, those are not quite critical, as we believe when this future truck becomes today's truck, it should then be configurable to customer's requirements. the essence is, the future is almost here and when it does knock on our doors, will we be ready for it? keep going for a few more awesome images.