looking to spend some quality time in the great outdoor with a bit of style and luxury? well, you are in luck, or least those in Germany are (at least for now), cos' the pointed star marque has just the ride for you. with the new Marco Polo Camper Van, Mercedes-Benz continues its longstanding collaboration with Westfalia to offer campers high-quality, practical features, ranging from storage and lounging/sleeping arrangements to camping equipment for outdoors. some of features you can expect include satin Santiago fabric or satin Lugano leather in a choice of beige or black, yacht-style flooring, black piano-lacquer elements, interior LED lighting, a kitchenette with cupboard modules, sink, gas burners and refrigerator, generous storage compartment, built-in wardrobe, and a folding table with scratch resistant surface for up to four persons.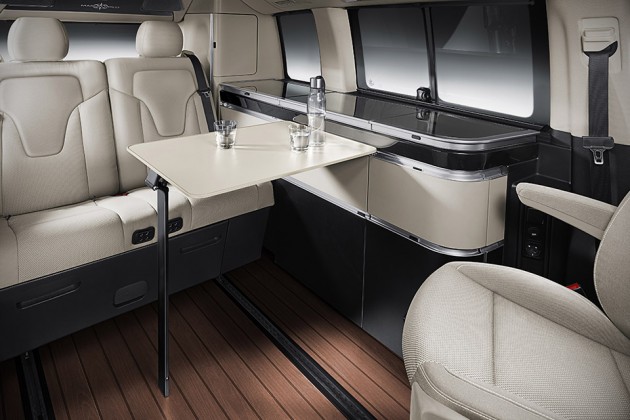 the same area is also the sleeping area where, at the touch of a button, can be converted into a single bed in a matter of seconds, or into a double bed. additionally, there is another bed, believe it or not, right under the pop-up roof. Mercedes-Benz is calling it the luxury roof bed, which offers a cool 2.05m by 1.13m of cosy comfort consisting of a high-quality foam mattress and a slatted frame of special elasticated springs. the new Marco Polo Camper Van boasts a pop-up height that is "considerably" higher at the rear then its predecessor and if standing height is required, the slatted bed frame can be stowaway upwards when the roof is popped up.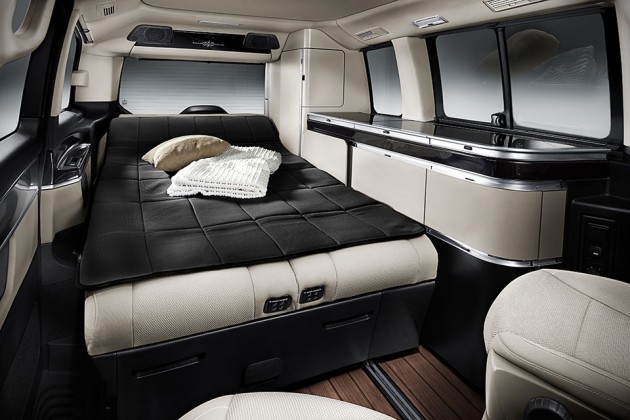 you can also expect the same level of safety and driving dynamic to ensure that you can travel safe and comfortably. three turbodiesel engines will be offered with the new Marco Polo Camper Van, including a 136 hp 200 CDI with 330 Nm of torque, a 163 hp 220 CDI with 380 Nm of torque and finally, a range-topping 190 horses unit, delivery a pretty impressive 440 Nm of torque. Mercedes-Benz will be showing off the new Marco Polo Camper Van at the Caravan Salon Dusseldorf in late August/beginning September 2014, but road trip enthusiasts and avid campers in Germany will be able to place their orders starting from July 29.