Can't get enough of Windows 10 devices? Well, then here's a few handsets that will certainly tickle your fancy. During the recent Microsoft mega event, the Redmond company has also unveiled two flagship Windows 10 phones, the Lumia 950 and Lumia 950 XL, along with yet another budget phone, Lumia 550. The flagships are the first Windows 10 Lumia phones with comes Continuum capability. Continuum? What? Basically, Continuum allows you to use these Windows 10 phones as PC without enduring with the tiny screen.
All you need is the new Microsoft Display Dock to bridge the gap between Continuum-capable phone and the monitor, throw in a keyboard and mouse, and voila, you can now work like a regular PC. Now, this concept of transforming phone into a PC isn't new; we even read about in one recent independent phone, but with the financial muscles plus the power Windows 10, who knows Microsoft may just pull it off. If so, I would be embracing it wholeheartedly. I promised. Keep going for details of the handsets announced.
Microsoft Lumia 950 XL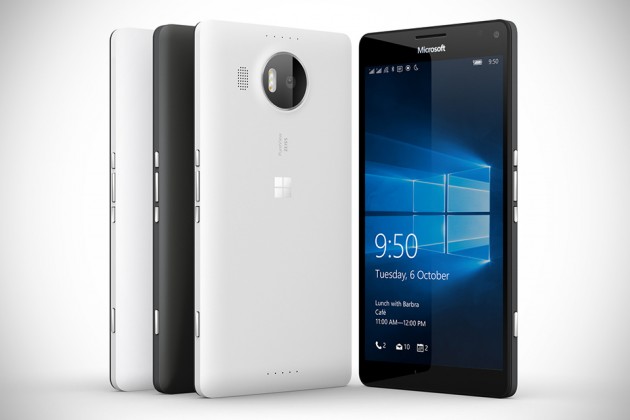 Clearly, the mother of the two flagships, the Lumia 950 XL is equipped with a larger 5.7-inch QUD AMOLED with 2,560 x 1,440 pixels on the tab and shielded by Corning Gorilla Glass 4, and is powered by a Qualcomm Snapdragon 810 chip with octacore processor. It comes packed with a larger, user-removable battery, rated at 3,340 mAh. USB-C with fast charging support comes as standard. Wireless charging is in the order, but will require additional accessory. Beyond those, it basically share a few features with the smaller counterpart, including 32GB board storage backed by microSD slot that supports up to 200GB, a 20-megapixel PureView camera with Zeiss optics, OIS, triple LED natural flash and 4K videoing capability, a 5MP wide-angle 1080p front-facing camera, 802.11 a/b/g/n/ac, Bluetooth 4.1, plus the usual serving of sensors.
Microsoft Lumia 950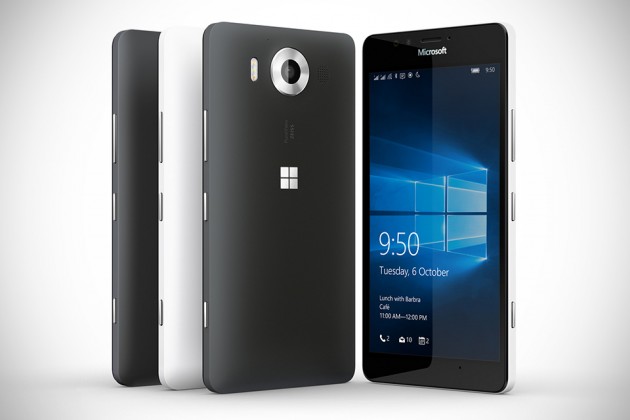 For those who don't fancy giant phone, the Lumia 950 presents itself as a 'smaller' alternative, though by not a lot at 5.2-inch. Despite the smaller display size, Lumia 950 still gets the same QHD display, which means more pixel-per-inch, and interestingly, it gets Corning Gorilla Glass 3 as opposed to 4. Reduced cost, I supposed? Anyways, power is derived from a Qualcomm Snapdragon 808 SoC with Hexacore processor and 64-bit support. Being of smaller form factor, it also gets a smaller battery pack, rated at 3,000 mAh. Basically, the 950 is the 950 XL, only smaller and maybe a tad less 'powerful', but apart from those, they are nearly identical. Aesthetically, they are quite similar too, sporting the same polycarbonate construction and same color options, i.e. black or white.
Both devices will be offered, depending on region, we presume, in single SIM and dual SIM versions. The Microsoft Lumia 950 and Lumia 950 XL will cost $549 and $649, respectively, when they comes available in November 2015.
Microsoft Lumia 550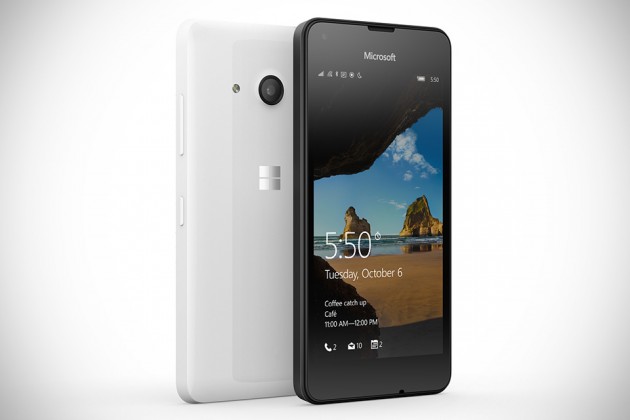 If both those devices are beyond your budget, there's the Lumia 550 to content with. Touted as the company's most affordable 4G LTE Windows 10 smartphone, Lumia 550 offers you a 4.7-inch HD display, along with a Qualcomm Snapdragon 210 SoC with quadcore processor, a 5MP f2.4 rear camera with flash, a 2MP front-facing camera, 8GB onboard storage – expandable up to 200GB via microSD card slot, wireless n, Bluetooth 4.1 LE, and a 2,100 mAh, user-removable battery. But how budget is this budget device? Just $139. It will be offered in the EU markets, starting December, with additional markets to follow.