The Mini might be small, but that doesn't mean it can reach everywhere you wish to go and thus, persistence existence of the last mile. Taking a stroll or in the case of an urban jungle, a hike, to your intended destination might not be a big deal, but to end up drenched in perspiration is and hence, the MINI Citysurfer Concept Skatescooter. Straight off, you know it is a concept, but nevertheless, pretty exciting. The Citysurfer is the British automaker's take of a scooter aimed to help you tackle the irksome last mile. It is a compact (well, kind of), foldable electric-propelled skatescooter that strikes a balance between size and practicality. It is not exactly light like some we have seen; it still weighs in at a good 40 lbs (18 kilograms) and is designed to be folded down to fit the trunk of a Mini 3-door, or even when commuting on public transportation like buses and trains.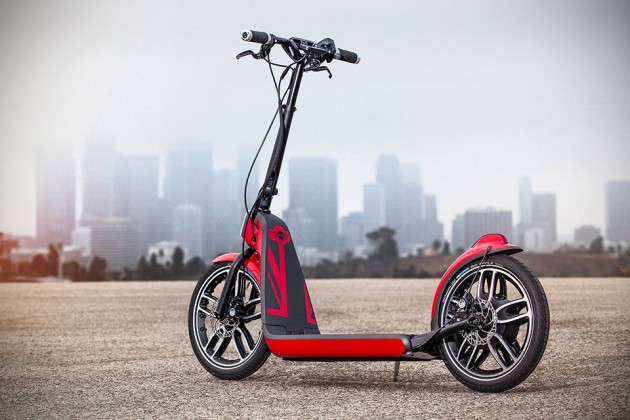 At the rear, there is a gearless hub motor that allows you to zip up to 15 mph (25 km/h). There is a catch though; the electric drive only kicks in when the minimum speed is met and so prior to that, it is dependent on your leg-power to get you up to speed. The electric motor is fed by a lithium-ion battery fitted into the frame (i.e. it is not user removable) and provides up to 15 miles or 25 km of range. In the event if the battery conks out, the lack of rolling resistance from the motor allows you to kick the rest of the way to your destination, which though not ideal, still beats the full walking regime and its single-track design (as with other skatescooter of sort) means it is suitable use on sidewalks. In addition to that, large wheels with pneumatic tires will let you maneuver it over rough paths and conquer low foot board.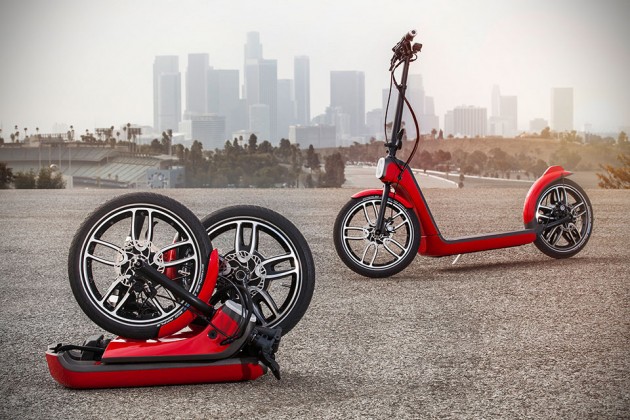 The MINI Citysurfer Concept may be compact, but it is still outfitted with brake energy regeneration (aka regenerative braking) which will put back some energy whenever the brake is applied. Speaking of braking, this ride has three brake systems that are independent of each other and this includes the aforementioned regenerative braking via electric drive generator function, hydraulic disc brakes up front and rear. Acceleration is through a thumb-operator accelerator, while brake lever is used to slow or haul the vehicle to stop.
The onboard battery is rechargeable either via your vehicle's 12V socket or a regular household wall outlet. A few other notable features include battery management system with integrated power electronics, height adjustable handlebars to accommodate to rider with different height, and last but not the least, a mobile phone holder, as well as "charging facility" on the handlebars, which we take it as there is a USB port built into it. No word on the likelihood of it being made, much less the price. In the mean time, we invite you to out a few more images below.