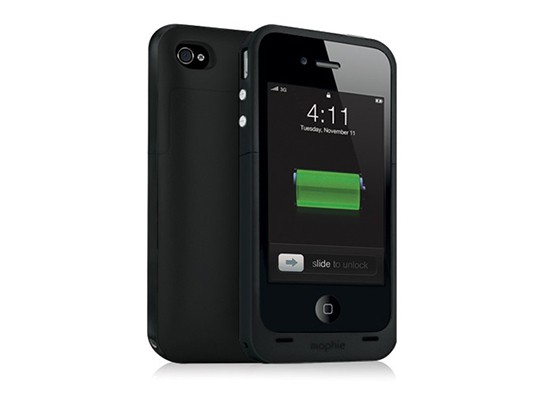 (image credit: Mophie) Mophie Juice Pack Plus | US$99.95 | www.mophie.com
the battery life for iPhone was never good. the short battery life is made even more obvious with its endless applications available to user, hence we never have enough juice for both play and work. thankfully, we have good people like Mophie who devised cases with built-in battery to extend the iPhone's battery life, so we can continue enjoy the phone for both work and play.
in comes the Mophie Juice Pack Plus for iPhone 4 which promises to add a whopping 2000mAh to your iPhone 4. as with the earlier incarnation for iPhone 3G/3GS, the Mophie Juice Pack Plus also doubles up as a protective case with shock-proof band. here's a run down of what the juice pack promises:
up to 8 additional hours of talk time on 3G (16-hours on 2G)
up to 7 additional hours of Internet use on 3G (11-hours on WiFi)
up to 44 additional hours of audio playback
up to 11 additional hours of video playback
with the juice pack on, users can still charge and sync the iPhone via the included USB cable. there's a standby/charging switch which allows toggling between standby or charging mode so users can choose to use the battery pack when requires. a 4-light LED status indicator at the bottom of the case lets user how much juice is left with a touch of a button and it also doubles as an indicator for charging status. a function reminiscent of the MacBook battery indicator.
if you're feeling pinched by the price tag of $99.95, perhaps you will feel more comforted to know that this juice pack is more than just a battery pack and a case. it also features an 'acoustic sound enhancement' which means that the case design acts as a virtual speaker box by redirecting sound from the bottom of your iPhone4 to the front, resulting in a richer, fuller sound quality.
i'd say this could be a great juice pack if you are constantly demanding for power. currently, only black is available but a few other colors should pop up soon.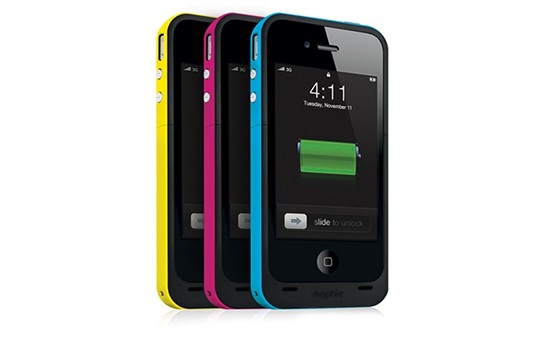 (image credit: Mophie)