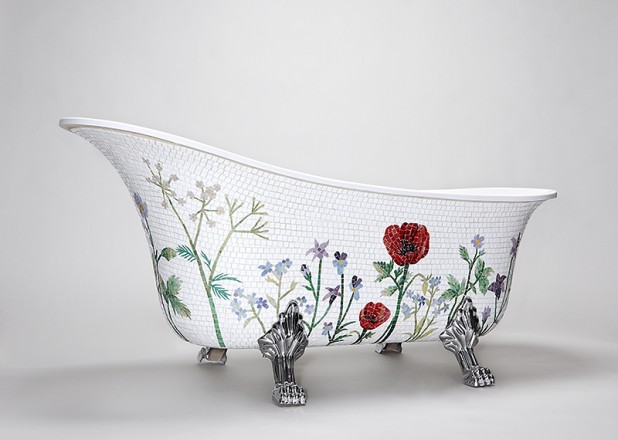 Mosaic Sweden Bathtub | US$na | www.mosaicsweden.se
we are not even sure if this is available commercially yet, due to our lack of knowledge in Swedish language. but one thing we do know is this beautiful bathtub was showcased along with a series of mosaics for floors and walls in the recent Stockholm Furniture Fair. nevertheless, this is one exquisite bathtub that embodies the elegance and sophistication of the old world charm. this standalone bathtub with lion's feet as its footings, has its exterior covered in mosaic pattern conjured up by Swedish designers Emily Solklippa & Hanna Wsetin-Skogh. captured in the mosaic pattern is the Swedish summer flowers as the main theme and "was based in the desired for a pattern associated with happiness and joy," says Emily & Hannah.
click on the image after the break to view a bigger image of this wonderful bathtub as well as a sample of mosaic patterns from Mosaic Sweden.