black is usually the color of choice for gaming laptops. seriously, i will never know why it is such. perhaps, gamers prefer black for the stealthy look? in any case you are not a conformist and willing to bag yourself one in color that will speak of the hardware prowess, the MSI Gold Edition GS60 Ghost Gaming Laptops might be worthy of your considerations. two models are introduced: the GS60 Ghost Pro and the GS60 Ghost. MSI basically grabbed the GS60 Ghost announced earlier and gave them pretty golden hue. just the color and not real gold, if that's what you are thinking. so if you are interested, i am assuming you have yet to purchase the two GS60 announced in March and May. else you will probably be cursing and swearing by now.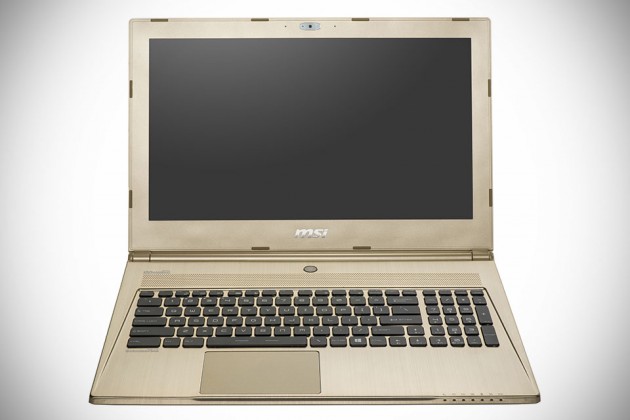 anyways, as far as hard specs are concerned, there aren't any changes with an exception to the GS60 Ghost model, which now gets the same NVIDIA GeForce GTX 870M graphics with 3GB VRAM as the Pro model does (unless we misread?). apart from that, you will be expecting a 15.6-inch 3K display for the Pro model and a Full HD display for the regular Gold GS60 Ghost. the 3K model also gets Super RAID with 128GB SSD plus 1TB HDD and 16GB RAM, while the regular Gold a 128GB SATA along with a Terabyte HDD and 12GB RAM. other details for both machines are pretty much in line with recent MSI offerings, which include Killer Game Networking, Intel 7260 Wilkins Peak 2 wireless, SD card reader, Dynaudio speakers, Sound Blaster Cinema 2, Audio Boost with internal amp and gold flash audio jacks, dual slim fans setup, USB 3.0 ports, HDMI 1.4 output, FHD webcam, SteelSeries Full-color backlight with anti-ghost key, and 6-cell battery.
the MSI Gold Edition GS60 Ghost Gaming Laptops are available exclusively at NewEgg, starting at $1,899.99. keep going for a few more looks.