toys are akin to gadget; they gets the same amount, if not more attention, as gadgets from man folks, especially so when it blends 'gadget', however subtle, into it. the N-Strike Elite NERF ECS-12 Blaster is one such example. set to meet the world at the NYC Toy Fair, this latest toy firearm to join NERF's arsenal is essentially a standard semi-auto NERF Blaster, but with a camera integrated to the barrel and a tiny 1.77-inch display on the top of the blaster's body (at the fore of the stock). a crosshair on the screen lets you line up your shot, or if the position and angle allows, let you shoot while taking cover. if only the screen is tilt-able, that would be really awesome.
however the star feature of this video camera integration is of course, the ability to record your foam battle in first person perspective, albeit in meagre resolution of 0.3MP and at 20 fps. appalling resolution it is in today's context, but i guess Hasbro is betting on kids won't be too anal about it and besides, this low resolution helps to keep the price down and allows this video camera to run off four AA batteries with up to three hours of recording time. a set of buttons allow you to switch between photo and video modes, as well as playing back or deleting footages stored in SD card. as a foam shooter, the ECS-12 accepts quick-reload clip and is battery powered (powered by another set of batteries), giving it the extra oomph to launch the foam projectile up to 90 feet.
the N-Strike Elite NERF ECS-12 Blaster will not be hitting the shelves until this Fall and when it does, expect a retail price of $75. check out a hands-on (plus a bunch of pics) of the ECS-12 early prototype by Engadget HERE.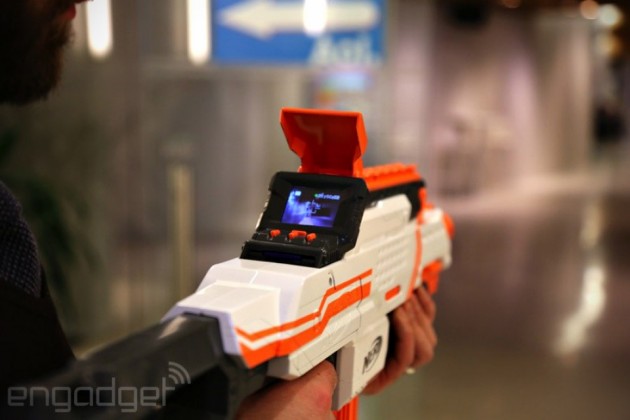 via Blaster Labs via Engadget