These days, anything could have a place in the Guinness World Records and if there's one car company that is obsessive about having a mark (or as many as it could) in the world's biggest name in world records verification, it would be Nissan. Having set the record as in the heaviest aircraft pulled by a production vehicle, largest glow-in-the-dark painting painted with a car, fastest time to ascent a 100m sand dune by a car, longest twin vehicle drift – just to name a few, Nissan has yet again claimed another world title: world's faster vehicle drift.
The vehicle in question that attained this feat? A Nissan GT-R NISMO, rigged to take the brutal punishment of a drift executed at a staggering 304.94 Km/h or 189.49 miles an hour. The milestone was made at an event held at Fujairah International Airport in UAE in March 2016. The car, driven by Japanese drift champion, Masato Kawabata, was specially tuned by GReddy Trust for "agility while maintaining stability and confidence-inspiring handling characteristic," said Nissan Middle East. A series of test was carried out at Japan's Fuji Speedway facility prior to shipping the car for the runs on the 3km long airstrip. That was a hell lot of work and money to make a mark in history, but that's just Nissan's way of pursuit for performance excellence.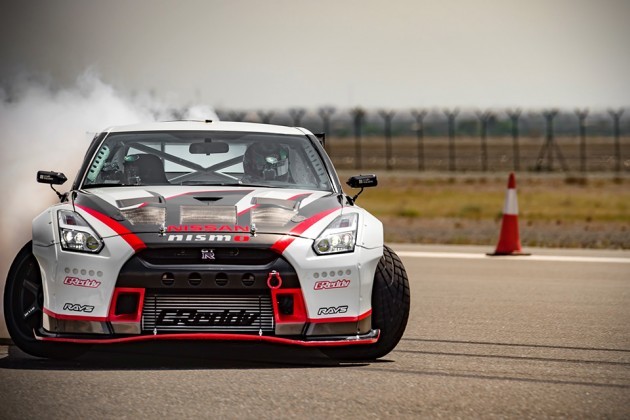 As far as the drift is concerned, the preparation was undeniably critical cos' going sideways at such extreme speeds for any non-prep car would probably see it doing a Fast and Furious side flip, or at least, breaking the axles or ripping the tires and wheels off. Anyways, as per Guinness World Records, the car with its associated spares and essentials had to undergo a stringent check by the certifying authority and the car and Kawabata had only three attempts to make the record, which it did. Numerous personnel were involved, including experts from GReddy Trust, along with technicians and logistics personnel from the Prodrift Academy, Recaro, RAYS, as well as Toyo Tires.
With the new record, Masato Kawabata and Nissan has officially ousted former record holder, Polish Jakub Przygoński. Check out the World Record attempt in the embedded video below and do try to hold up your jaw while you are at it.