whether in fact Mars is habitable is still a question that remains to be answered. regardless, that doesn't stop some of us from dreaming about the possibility, and by 'some of us', we are referring to NASA. NASA's Jet Propulsion Laboratory (JPL) has partnered with MakerBot to initiate a challenge for the 3D printing and design community to conceptualized a Mars base that "could theoretically support human life on Red Planet." among the 228 original designs submitted to Thingiverse website, one dude by the name of Noah Hornberger, emerged as the winning entry. his concept, dubbed Queen B (Bioshielding) 2 Bedroom 2 Bath Mars Apartment, took the first prize.
from the entry title, you probably already have some clues of what it is going to be like. it is a habitat away from Mother Earth, but yet one which humans can relate to and be comfortable in, and of course, in addition to having the necessary protection from harmful elements like radiation, sand and dust storm and freezing cold. the design takes on a hexagon shape for its "compactness and modular potential" which are important aspects if you are going to transport materials through great distances and constructing on unchartered grounds where availability of building resources are unknown. it will have depleted uranium composite bioshield to keep out harmful cosmic radiation, 2.5-foot thick insulated walls and radiators plumbed with regulated hot water to maintain a habitable temperature – supplied by underground water heater, and an air purification system with pure oxygen reserve to create a breathable environment.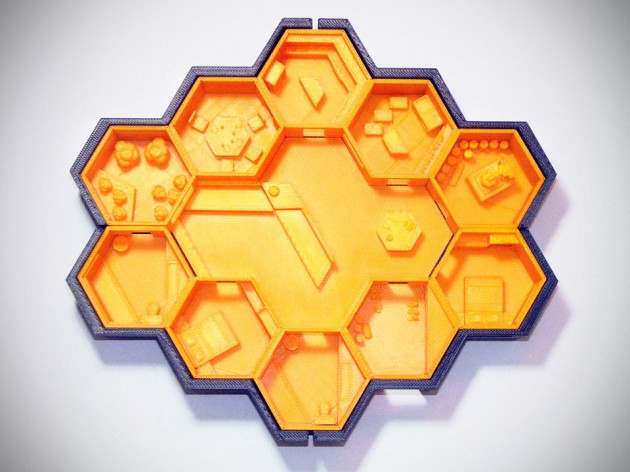 the steam generated through heating of water could also used to drive steam powered generators to supplement the power harvested by the solar panels. of course, all that assumes that the ice 'found' is actually ice and we are able to exploit it. the beehive-like Red Planet structure contains ten individual rooms, each having a 16-foot diameter (some number crunching gets us 166 square feet or 15 square meter of area) and comprising of fully functioning kitchen, two baths, two bedrooms, garden, a 3D print lab, laundry/utility room, dinning area, and decompression/mud room.
it will have a large (about 664 sq-ft or 62 sq-m), albeit oddly shaped, lounge area for bonding and socializing, and basically, chilling out in an alien planet where there is pretty much nothing to do. good lord. does it mean no Internet? and no mikeshouts.com? jeez. that sounds like a bad idea for the pioneers who are brave enough to take on the challenge of building a habitable environment on the Red Planet. whatever (Skynet's drones, perhaps?) or whoever's going, we salute you. then again, that will be way beyond my generation to even know.
perhaps, our grandchildren (or even great grandchildren) may be the ones to witness the birth of Earth's twin. nevertheless, it is good to hear big dreams and being a sci-fi nut, i am definitely thrilled by the prospect and this design proposed by Noah, only makes even more exciting somehow. keeping going for a more detail look of Noah's winning concept, courtesy of Noah and Thingiverse.