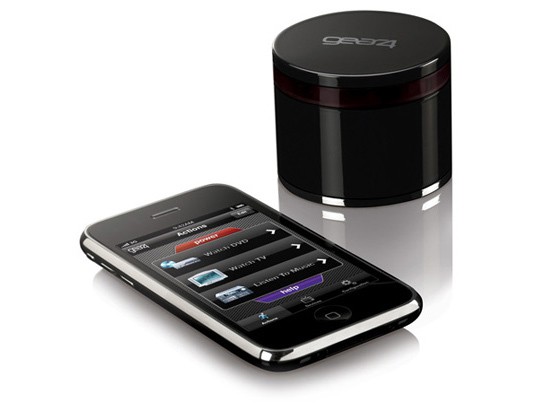 (image credit: Gear4) Gear4 UnityRemote | £99.99 | www.gear4.com
another hardware and apps combo that turn your iPhone into something else other than a phone. seriously, what else iPhone can't do? this time round it's going to be an Universal Remote control for your home devices, as long the devices use infrared signal.
new from Gear4 is the UnityRemote that transforms your iPhone into an advanced Universal Remote that controls your home devices with the help of a free app and the discrete UnityRemote unit. using iPhone as a remote means ability to take advantage of gestures to control your devices. with the UnityRemote and the app, gestures can be pre-programmed to swipe from left to right to change channels, for example. you can't get any more intuitive than this.
basically, the iPhone uses low power Bluetooth signal to communicate with the UnityRemote hardware and the unit in turn, uses its five infrared blasters to send out a 360° signal to your devices wherever they are in the room. as long as the device to be controlled is within the range and sight, the iPhone can controls it. up to eight different Apple devices can be paired with the UnityRemote, so your roommate won't be caught without a remote when you are not home.
as with all good Universal Remote, this system allows user to create 'Actions' to control multiple devices simultaneously. such as as turning on the TV, DVD player and sound system. the system will select the right channel and start playing the DVD in just one touch. of course, that would require some programming first. no words on how huge the existing remote database is but whatever it is, it has the 'Learning' capability which allows the UnityRemote to learn controls that it doesn't already know.
the UnityRemote works on three AA batteries, hence it can place virtually anywhere in the room without the burden of mains. the hardware measures 51 mm high and 64 mm in diameter which is pretty discrete, but then again it's not ugly that requires us to keep away from sight. the UnityRemote will work with iPhone 3/3GS/4, iPod Touch (2nd/3rd/4th generations). the Gear4 UnityRemote retails at £99.99 (approx. US$156.00) which is considered affordable for an Universal Remote – if it works as promised.