Here's another interesting gadget that will help solve one of life's many small inconveniences. It is called ODii Grab-it Gadget and it is what it say it is: a tool that grabs stuff, but it is not your ordinary grabber. ODii is extremely compact, measuring just 12 inches and multifunctional. Where the market offers inconveniently sized claw or magnetic attachment, ODii is super slim to enable it to slip through the narrowest space and boast a 4-pronged claw and a separate super-strong neodymium magnet attachment to enable you to pick up a myriad of stuff. It even has a removable LED light to aid you in picking up things from the dark abyss of your car.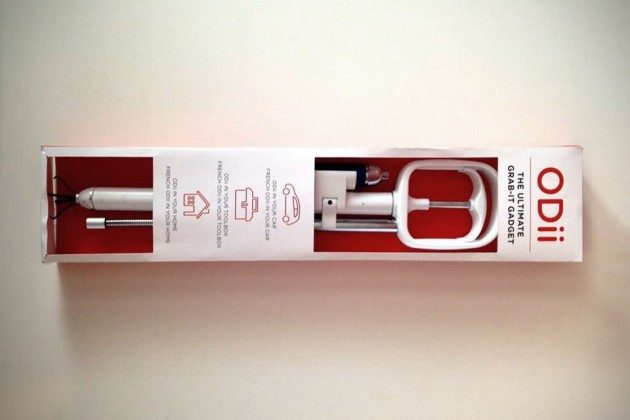 ODii features an easy grip with a two-finger actuated trigger to activate the grabbing action and it is totally extendable; up to 18 inches on the 4-pronged claw's telescopic arm and up to 24 inches for the magnetic attachment. The extension on both grab attachment and the magnetic pickup tool is flexible, thus allowing you to bend it to fit awkward angles. Additionally, the specially engineered claw is small and unobtrusive, which allows it to reach into tight spaces, while still providing the grab strength required to pull in heavier stuff like wrenches, smartphones and stuff. The magnetic attachment is no slouch too; it is able to hold up object as heavy as two pounds.
While ODii may have been designed with automobile owners in mind, its application is wide and varied, including in homes where you can use it to pick objects dropped into the sink, behind the cabinet and more. It can also be used when you are working on your car's engine, where it can help to pickup dropped screws, bolts and nuts, tools, among the many other things. The ODii Grab-it Gadget can be preordered now via Kickstarter for an early bird price of $20 CAD (about US$16). And oh, there is no need to worry about funding, cos' the campaign has 16 more days to go, but it is well over its set funding goal and so, the product is a go.
submitted via TIP US page.