Last month, we saw the supposed leaked video of the newest Boston Dynamics' robot, Handle, and today, we are treated to an official footage and a little technical bits of this nightmare-inducing robot. That said, we shan't repeat ourselves; instead we will fill you in with some of the 'missing details', including some technicalities. Actually, there's really not a lot of information to go round, but one thing for sure, Handle is a lot less scarier than we first thought. Granted, it can move pretty quickly, but 'only' at up to 9 miles an hour (14.5 km/h!), which happens to be around the person's average running speed (not sustained though). So, if you run like Usain Bolt, you are safe.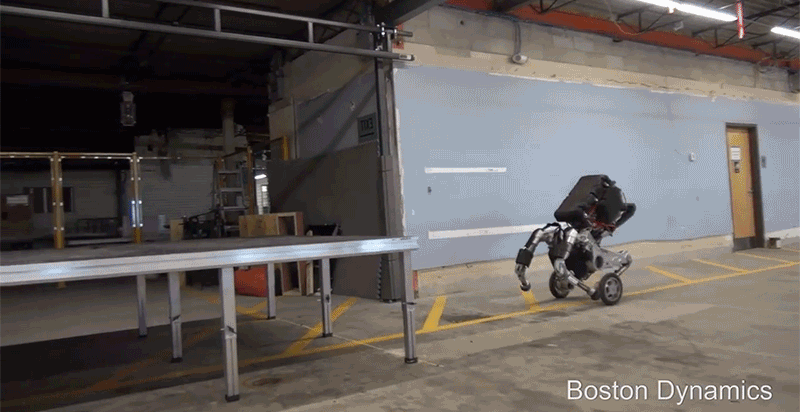 And remember that it jumps? Well, according to Boston Dynamics, this six foot five (1.98 meters) bad-ass, wheeled biped robot is capable of leaping 4 feet (1.2 meters) vertically and so therefore, it is totally capable of clearing obstacles with ease as he chase you down. But as a consolation, its battery, which the onboard electric and hydraulic actuators depends on, is only good for 15 miles (24 km) and so, keep running my friend. I am sure you will outlast him eventually.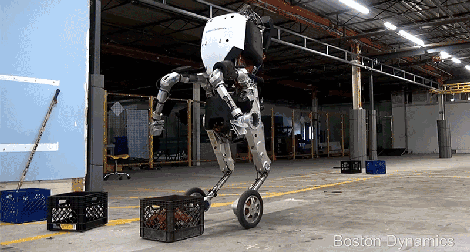 Finally, it can carry (or should we say, handle?) 100 lbs (45 kg) of load, but thankfully, it can only pick it up and not hurl the goods. Jokes aside, official words are, this latest Boston Dynamics' robot shares same dynamics, balance and mobile manipulation principles as the company's quadruped and biped robots, but the major difference is, Handle has only 10 actuated joints, making it a lot less complex. This means that it will be of lower cost to built, and therefore possibly more affordable as a consumer-grade 'bot in future. Also, Handle is probably the reason why we have roller-skates and line-skates, because wheels will always be faster. Official video follows.
Image: screengrab from YouTube video.
Animated GIFs and source via Gizmodo.