This is what you get when a tank maker decides to make a fire fighting vehicle. Simply referred to as Special Fire Fight Vehicle, this tank-based fire fighting machine is the product of Russia state-owned engineering company Omsktransmash, or Omsk Transport Machine Factory in English. Omsktransmash does not specifically build tanks though; it's main business dealing is to give old Russian designed tanks new breath of life and because of this, it is able to conjured up a fire tank based on the parts and components from T-72 and T-80 tanks. So, technically speaking, it is a tank that's designed to save than kill.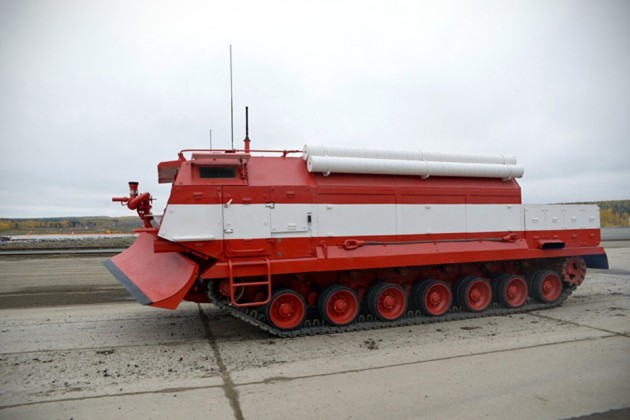 It weighs a hefty 60 tons (or there about) and sports an armored cab and a blade up front. The former keeps its three crew from harm's way, while the latter, presumably movable along the vertical axis, aids the vehicle in burrowing through debris and whatnot. It can be loaded up with up to 25 cubic meters of water and other fire suppressants and its onboard pump enables it to combat fire from up to 100 meters away. Omsktransmash said SFFV is designed to fight fire where there are risks of explosion, or explosion is imminent, and also to clear path for other fire fighting vehicles, as well as laying firebreaks in forest fires.
While it is definitely a tough machine, we are skeptical about the relatively small nozzle can serve up. I mean, if you are heading into a raging fire which calls for such rugged machine, isn't it true that the ferocious fire would require more volume of water to suppress? That said, perhaps a tank equipped jet propelled water would be a better option. Anyways, this Special Fire Fighting Vehicle was developed in 2012 and made its debut at Russia Arms EXPO in 2013, but it was only approved for use by the Russian Armed Forces last year and the first two vehicles will be delivered in late March 2016, says the company.